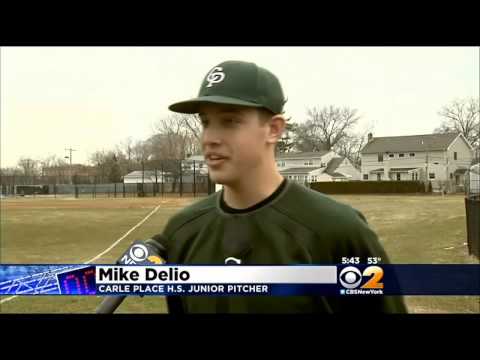 View 2 Items

A New York high school pitcher experienced a perfect sports moment in his first varsity action Tuesday, one that is extremely rare in baseball.
Mike Delio of Carle Place High School in New York struck out all 21 batters he faced in his team's 15-0 victory, according to Newsday He threw a perfect game in his first varsity start after two years of junior varsity play.
"I've had dreams of throwing no-hitters and perfect games but nothing like this," Delio told Newsday. "This was a once-in-a-lifetime opportunity."
According to CBS New York, the high school junior's fastball reached 85 miles per hour and he threw 84 pitches, including 60 strikes. Only twice did he reach a full count.
"I told the guys yesterday that, like I said, I've been around for a long time and I've never even heard of something like this before," Carle Place baseball coach Brian Krummenacker told CBS New York. "I made them make note of this, that this is definitely a once-in-a-lifetime experience."
In addition to his perfect strikeout outing, Newsday reported Delio also walked three times and stole two bases.
"(It) made me feel like the next one or two starts, I'm going to feel like some eyes are on me, looking to see if I can do this again," Delio told CBS New York. "We'll see."
Email: bjudd@deseretnews.com; Twitter: @brandonljudd