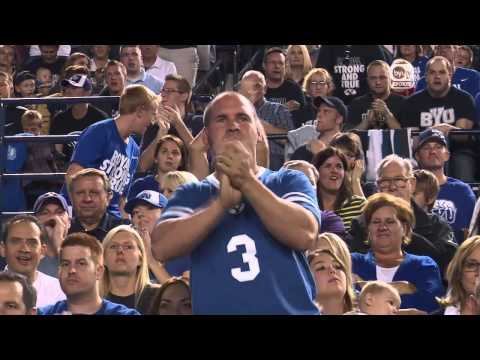 View 2 Items

BYU Athletics celebrated athletic and academic success at the 2014 Y Awards ceremony Wednesday night at the Marriott Center.
In a night of firsts, BYU Athletics welcomed Cougar Nation to the event and broadcasted the show live on BYUtv. In the previous 10 years of the event, only Cougar Club and athletics department members attended the show, which was taped and rebroadcast at a later date.
Eighteen student-athletes, two coaches and two teams were honored as part of this year's Y Awards. Among the honorees were women's basketball player Jennifer Hamson, named Female Athlete of the Year, as well as men's basketball player Tyler Haws and men's volleyball player Taylor Sander, who were named Male Athletes of the Year. For the first time in school history, BYU named co-winners for Male Athlete of the Year.
Women's basketball coach Jeff Judkins was named Coach of the Year after leading his team, which was named Women's Team of the Year, to the Sweet 16 of the 2014 NCAA Women's Basketball Championships. The 2013 men's volleyball team took home Men's Team of the Year honors for its run to the title match of the 2013 NCAA Men's Volleyball Championships and its Mountain Pacific Sports Federation title.
Rookie of the Year awards were given to softball's Gordy Bravo and baseball's Jacob Hannemann.
3
comments on this story
Y Awards winners are selected by votes from their fellow student-athletes. Each head coach nominates one athlete from their team for each of the categories. The Cougar Council, a group of athletes comprised of two representatives from every team, narrows down the candidates prior to the general athlete voting. Award qualifications are based on competition from April 2013 to March 2014.
This year, BYU Athletics introduced a new award — Game of the Year. Instead of student-athletes voting to determine the winner of this award, BYU opened up the voting to Cougar Nation, which voted via social media.
The cast of Studio C hosted this year's event.
BYU Athletics also honored President Cecil O. Samuelson and his wife Sharon for their contributions to athletics during his time as president at BYU.
BYUtv will rebroadcast the show April 12 at 9 a.m. MDT.
Rachel Hawks is a sports information director for BYU Athletic Communications.