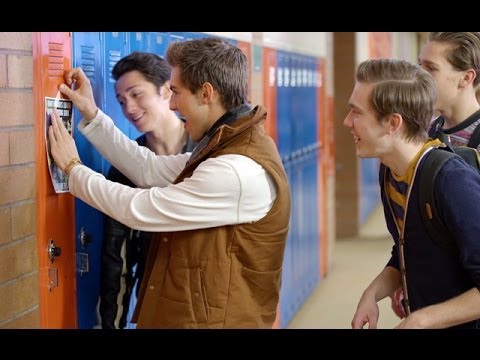 View 6 Items

Our early-morning seminary class used two of the LDS Church's mobile apps to help a message sink in from President Dieter F. Uchtdorf's recent general conference talk on bullying.
One morning, we watched and discussed the new Mormon Channel video titled "Bullying: Stop It," which dramatizes the story of a group of young men and the impact of their hurtful actions. The plot is interspersed with audio clips from President Uchtdorf's talk "The Merciful Obtain Mercy," from the April 2012 Sunday morning session. By now, the video and talk are well known. Arguably the most recognized excerpt is this:
"This topic of judging others could actually be taught in a two-word sermon," said President Uchtdorf, the second counselor in the First Presidency of The Church of Jesus Christ of Latter-day Saints. "When it comes to hating, gossiping, ignoring, ridiculing, holding grudges or wanting to cause harm, please apply the following: Stop it!"
The message is powerful, and I looked for a way to give it more meaning and application that would stick with my students. Up until then, I had typically shared conference talks using printed handouts or short video clips and had not shown them where to find the talks for their own reference. That's where the LDS Church's digital resources made a huge difference.
The next morning, we made time for those with smartphones to download the Gospel Library and LDS Youth apps. Mobile devices are only allowed in our class for brief, prescribed activities that serve a purpose and are then required to be put away. I showed them how to find the bullying video on the LDS Youth app and pointed out the share links that allow them to email it or post on Facebook. We then opened Gospel Library and navigated to the text of the talk under "General Conference." We demonstrated how to highlight sections and then bookmarked the talk. I also invited them to add a note near certain paragraphs to remind them that those words are used in the video, so the next time they come across this talk in their studies, it may prompt them to re-watch it.
We then discussed that they can log into their LDS account and keep those bookmarks, highlights and notes and take them anywhere for the rest of their lives. Several students seemed to perk up when I mentioned that "anywhere" likely will include their missions, since most or all of these future missionaries will carry a church-issued mobile device with access to their account and myriad other tools designed to bring gospel teachings (including conference talks) alive.
The reaction was visible for many in the class. Regardless of whether or not they had a smartphone, everyone had a greater opportunity to discuss and be impacted by President Uchtdorf's talk.
Possessing talks, videos and other church resources on their phones not only gives them access at any time, but it also makes it natural to share those resources and prepare for their missions. I am grateful for the tools that those of all ages can use to take in gospel teachings in ways that will last.
Jared Johnson serves as an early morning seminary teacher in the Peoria Arizona North Stake. His website is at pianobragsongs.com.