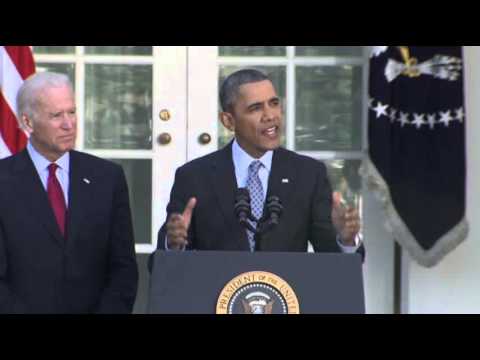 View 5 Items
Associated Press

As messy as it's been sometimes, as contentious as it's been sometimes, it is progress. It is making sure that we are not the only advanced country on earth that doesn't make sure everybody has basic health care.

—President Barack Obama
SALT LAKE CITY — For Briana Nunez answers to her health care questions came in the form of a flier at her son's school.
Nunez is in Utah on a work permit and was struggling to determine if she could insure her family of five. She thought she might have to pay from $118 to more than $200 per month for health care coverage under the Affordable Care Act.
The flier directed her to the Utah Health Policy Project which helped her onto the government website Monday, in line under the deadline. Tuesday she learned that her temporary worker visa doesn't qualify for coverage under the Affordale Care Act.
Full-time student Nancy Nielsen, 56, tried to enroll through healthcare.gov in October but became frustrated after spending hours online with no success. Two weeks ago she went to the Utah Health Policy Project and worked with a representative who spent hours with Nielsen to get her the best possible coverage at a low cost. Insurance under the ACA is an improvement from her previous coverage under a high-deductible university plan that did not pay for prescriptions or dental procedures, she said.
"When this came up I thought, 'This is perfect because this is something even better,'" she said. "This just makes life look a lot brighter to me, to tell you the truth."
Nunez and Nielsen were among the 7.1 million Americans who created an account by the deadline for coverage under the Affordable Care Act, despite the difficulties present from beginning to end with healthcare.gov, which included slowdowns and long waits on the last day of open enrollment Monday.
"If people were able to get their foot in the door" and register before the end of Monday, they were given a two-week extension to finish their application, Utah Health Policy Project education and communications director Jason Stevenson said.
State estimates of the number of newly insured will not be released until mid-April. But Stevenson said he is optimistic that Utah will be pretty close to meeting its goal of 57,000 people enrolled in health insurance plans. As of March 1, almost 40,000 Utahns had selected a new health plan.
Organizations like the Utah Health Policy Project and its partner organizations, community health clinics and insurance brokers offered guidance to those who needed it. That included learning whether they qualified for care or not.
President Barack Obama spoke in the Rose Garden Tuesday about the end of the first enrollment period under the Affordable Care Act. He said that while the act was not perfect, it was a start.
"As messy as it's been sometimes, as contentious as it's been sometimes, it is progress. It is making sure that we are not the only advanced country on earth that doesn't make sure everybody has basic health care," he said.
In spite of granting coverage to many more under the plan, there are still longtime residents who do not qualify under the Affordable Care Act.
Nunez returned to the Utah Health Policy Project for additional guidance Tuesday. Air conditioner noise and ambient music could be heard in the office that was bustling one day earlier. On the wall behind her a monthly calendar showed handwritten notes on dates, including March 31, "Last day enrollment!"
The enrollment specialist there told her that she and her husband did not qualify for coverage because they are in the United States on worker's permits. She was relieved because she did not think she could foot the monthly insurance bill, but she is unsure of her next step. She left the office armed with knowledge to help her friends and family members.
Gov. Gary R. Herbert, who has criticized the Affordable Care Act, encouraged Utahns to become enrolled during the taping of his monthly news conference on KUED Channel 7, Thursday.
"There are opportunities out there for people to get health care in the private sector and also the Affordable Care Act, so take advantage of those opportunities," he said. "I think that's prudence."
Those who did not sign up under the Affordable Care Act by the deadline will be fined $95 per adult, $47.50 per child — with a maximum of $285 per family — or 1 percent of their income above the tax filing threshold. This fine will likely be taken from their 2014 tax return. Penalties for not having health insurance increase each year.
Some people may qualify for an extension, including those who began but did not finish their application, those who were prevented from enrolling because of the mistake of a navigator or certified application counselor, those who were prevented by enrolling by a natural disaster or those who could not enroll because they were victims of domestic abuse.
Certain qualifying life events will allow people to enroll in coverage outside of the open enrollment period. These include a marriage, having a baby, leaving a job and gaining citizenship. Under these circumstances, individuals have 60 days to obtain insurance coverage.
Health insurance navigators will be available in Utah through August, and can help people prepare for the next open enrollment period that begins Nov. 15.
Update: After doing additional research, Utah Health Policy Project found on Wednesday that Briana Nunez was qualified to buy health Affordable Care Act insurance. They planned to contact her and inform her of her health care options.
"Anyone lawfully present in the U.S. Is able to purchase insurance on healthcare.gov and receive premium subsidies if eligible. This includes Lawful Permanent Resident (LPR/Green Card holder,) asylees, refugees, people with worker visas and student visas, as well as citizens of Micronesia, the Marshall Islands and Palau," Jason Stevenson, Utah Health Policy Project education and communications director, said in an email.
Unlike Medicaid or similar public programs, coverage through healthcare.gov is available to legal residents who have been in the United States for fewer than five years, Stevenson said.
Email: [email protected], Twitter: whitevs7