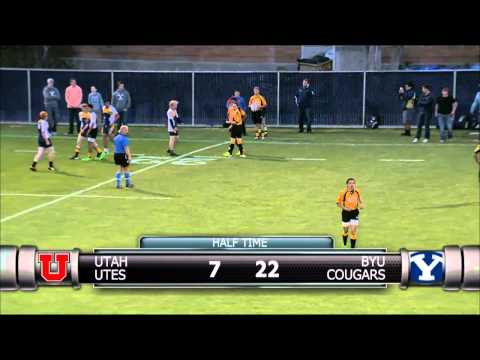 View 14 Items

Utah is a hungry, well coached team that is going to come here to South Field and give a good performance.

—BYU head coach David Smyth
Less than one week after beating San Francisco Golden Gate for the Champions Challenge, the No. 3-ranked Cougars face No. 9 Utah on South Field in Provo for the Wasatch Cup. BYU is 13-1 on the season and hopes to increase the momentum gained over its current seven-game win streak.
"Utah is a hungry, well coached team that is going to come here to South Field and give a good performance," BYU head coach David Smyth said. "We're going to work hard this week to prepare for them and it should be a good game on Friday night."
BYU has won eight of its last nine games against Utah, with Utah's sole victory coming in 2005. Utah is currently ranked No. 9 nationally by RugbyMag.com and always presents a stiff challenge for the Cougars in spite of the overall record between the two teams.
BYU captain Kyle Sumsion, freshly returned from his stint with the successful USA National Team last weekend, said the BYU and Utah games are the most intense and competitive games he's played in during the regular season.
"The rivalry makes this game bigger than what it is," Sumsion said. "Utah has a lot to prove and nothing to lose, so no matter what happens Friday night it's going to be another heated rivalry game between two teams that want nothing else than for the other team to lose and lose soundly."
BYU vice-captain Jonny Linehan echoed his captain's sentiment.
"Utah will be playing their best just like they do against any BYU team," Linehan said. "We will do everything in practice to make sure we are ready for them and we are really looking forward to a good game."
As noted previously, the Cougars will see Sumsion in the blue and white jersey for the first time in three games after he recently returned from competing with the USA National Team. The Men's Eagles Rugby team beat Uruguay, 32-13, in the second leg of the home-and-away Rugby World Cup 2015 qualifier series, which qualified it for the IRB Rugby World Cup 2015 in England.
The Cougars, however, are still missing the impact play of All-American center Seki Kofe who is out for the season with a torn pectoral muscle. But they will be buoyed to some degree with the return of All-American center and cross-over athlete Paul Lasike who has finished his Spring football commitments and will likely return to Cougar sideline in some fashion this Friday night.
Following the Wasatch Cup, BYU heads to Phoenix on April 12 to face Arizona State in the inaugural Rugby Bowl 2014 before beginning its 2014 national championship campaign in the Varsity Cup. The Cougars are looking to reach their third straight national championship game, which will be held May 3 at Rio Tinto Stadium in Sandy, Utah, and will be televised live on NBC Sports Network. For full event details, including match dates and venue details along with ticket information, visit the Varsity Cup website.
Friday's game against Utah begins at 7:00 p.m. MDT. Admission is $8 for adults and $5 for students. The Wasatch Cup will also offer a $3 special group rate option for coaches and players of Utah Youth Rugby teams who attend the game in a group of 20 or more. Teams attending the game are invited to wear their team gear.
Also, all BYU student ROC members who show their ROC pass receive a 2-for-1 admission to Friday night's Wasatch Cup bout against Utah.
Those who aren't able to attend the game can watch live via BYU rugby's YouTube channel or follow the game on Twitter.
Kelby Jones is a student at BYU studying public relations and currently writes for BYU Rugby.