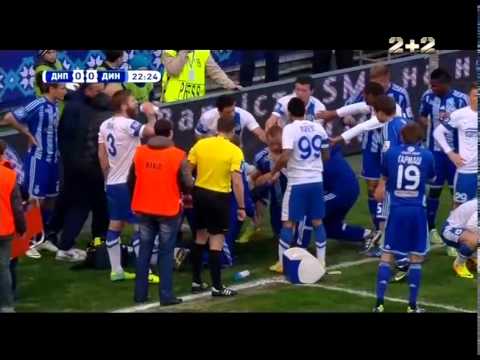 View 3 Items

An astounding act of heroism on the soccer pitch may have saved an opponent's life in the Ukrainian Premier League on Sunday.
It all happened in the 22nd minute in a match between Dynamo Kiev and Dnipro Dnipropetrovsk, when Kiev's Oleh Husiev was knocked out cold after a collision with Dnipro's goalkeeper.
However, Dnipro's Jaba Kankava noticed something was wrong and did not hesitate, rushing to Husiev's aid within seconds of the collision. Kankava then made sure Husiev's airway was open, as doctors rushed to the scene.
1
comment on this story
According to Business Insider, one report from the stadium noted Husiev "appeared to swallow his tongue during the collision," which blocked his airway after he was knock unconscious.
Husiev was taken to a hospital, where he received a "a closed craniocerebral injury, medium severity concussion, facial soft tissue bruise, big graze on the face, mandibular joint bruise and damage of three teeth," according to a Kiev press release.
Dnipro won the match 2-0, but all of that seems irrelevant.
Check out the harrowing moments in the video above.