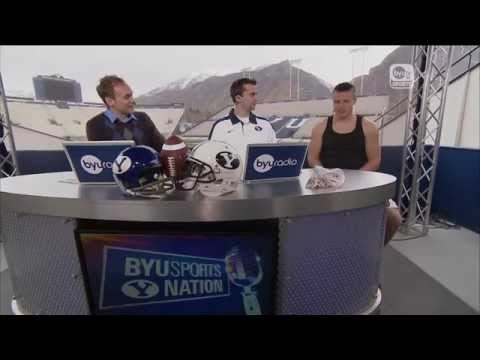 View 30 Items



Tasked with replacing a pair of dynamic, record-setting Cougars in Kyle Van Noy and Cody Hoffman, the BYU football program has brought in several athletes and moved others around.
Of these two former Cougars, who now have their sights set on the NFL draft and a professional career, which former BYU player's production will be tougher to replace this season?
Through the early part of the offseason and three weeks into spring camp, the early indication appears it would be easier to replace Van Noy, who played his way into the discussion as one of the best BYU defenders of all time by being a ball-hawking defender with a penchant for big plays.
This offseason, the Cougars moved a pair of veteran players to fill in Van Noy's position at outside linebacker and line up opposite returning starter Alani Fua. Junior Bronson Kaufusi transitioned from defensive end and senior Michael Alisa switched sides of the ball, returning to linebacker where he played in high school and as a BYU freshman after spending the past three years at running back.
That, combined with Manoa Pikula and Zac Stout emerging as the leading candidates to start at the inside linebacker positions, and it appears BYU will be able to successfully plug the holes that Van Noy will leave. While it will be difficult to replace Van Noy's ability to harass opposing quarterbacks and create game-changing turnovers, these returning players have enough of a track record that there is confidence that the middle of the BYU defense will again be a strong point.
On offense, the Cougars brought in several newcomers to try and fill the void of Hoffman, who broke several BYU career records, including receptions, receiving yards, receiving touchdowns, 100-yard receiving games and all-purpose yards. The biggest question is how effectively a new set of receivers, including UTEP transfer Jordan Leslie and junior college receivers Nick Kurtz and Devon Blackmon, could pick up on the Cougars' "go fast, go hard" offense.
During Saturday's spring scrimmage, though, the wide receiving crew showed that, collectively, it could have the tools to replace the versatile Hoffman. While Kurtz is the only newcomer on the Provo campus (Blackmon and Leslie will be around for fall camp) other players with more than a year in the Cougar system (Kurt Henderson, Michael Davis and Terenn Houk) stepped up and made plays in the 102-play scrimmage.
Yes, it's just a spring scrimmage — where results are difficult to gauge — but five receivers had 40-plus yards receiving to help starting quarterback Taysom Hill throw for 307 yards and three touchdowns. There was an apparent chemistry between the receivers and the passer that wasn't always there last season when the Cougars struggled to finish drives.
A 53-yard pass from Hill to the speedy sophomore Davis, who spent last year as a cornerback to fill in gaps on the defensive end caused by injury, was among the highlights from Saturday's scrimmage. Also, Houk made a handful of nice grabs and Henderson appeared ready to increase his involvement in the BYU offense.
Kurtz, the lone newcomer currently practicing with the Cougars' receiving arsenal, showed an ability to get himself open and make solid plays on the ball. At 6 feet 6, he is a strong candidate to replace the over-the-top production the 6-4 Hoffman provided BYU since 2010.
While Blackmon and Leslie have yet to arrive on campus, there is optimism that the group of receivers BYU will have in 2014 will help the Cougars improve upon their No. 71 passing offense numbers from last season.
The Cougars' linebacking corps has more in-program game experience, giving it the inside track to better handle losing a certified star player.
But if the BYU wide receivers can mesh and create a cohesive unit there is a possibility that they can collectively overcome the loss of the Cougars' all-time leading wide receiver, make the offense more effective and better transition from the loss of a program record-setter.
Email: bjudd@deseretnews.com; Twitter: @brandonljudd