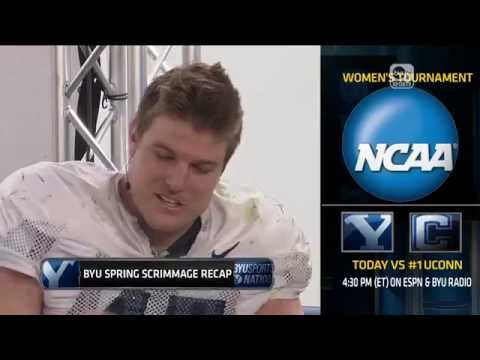 View 31 Items




He's been great. I've become real close with him since he came back and he's going to help us a lot. I don't know if he'll end up starting, but I am sure he'll play a huge role in our success as a defense.

—Manoa Pikula, on Zac Stout
PROVO — BYU linebacker Zac Stout again put forth a solid performance during Saturday's open scrimmage and may be on his way to earning a starting slot.
Following the scrimmage, BYU coach Bronco Mendenhall said he'd go with Stout as a starter as of right now. Stout would assume the starting Mike linebacker duties with Manoa Pikula starting at buck linebacker. Jherremya Leuta-Douyere would be the No. 3 option in the middle and Austin Heder No. 4, according to Mendenhall.
Mendenhall quickly noted a lot has yet to play out with regards to inside linebacker depth, but both players and coaches have been impressed with Stout's work.
"He's been great," Pikula said. "I've become real close with him since he came back and he's going to help us a lot. I don't know if he'll end up starting, but I am sure he'll play a huge role in our success as a defense."
Stout sat out a year due to academic and ecclesiastical issues, but has returned focused and determined to make an impact as a senior.
"I'm feeling real good about Zac and all the guys," Pikula said. "I think we're becoming a solid unit, but we just now need to work on not being satisfied and keep working as hard as ever. But yeah, I feel good with what we did today and I like our potential."
Comment on this story
EVEN AT KICKER: The battle for starting kicking duties intensified Saturday with Trevor Samson drawing dead even with Moose Bingham.
"Statistically, Moose Bingham had a slight edge, but today it swung more to Trevor Samson in terms of accuracy," Mendenhall explained. "So ... (they're) about dead even with Samson having a stronger day today."
Overall Samson connected on 3 of 5 attempts Saturday, with Bingham going just 3 for 8. Austin Brasher had the best day statistically, booting through 5 of 6 attempts.
Email: bgurney@desnews.com
Twitter: @BrandonCGurney