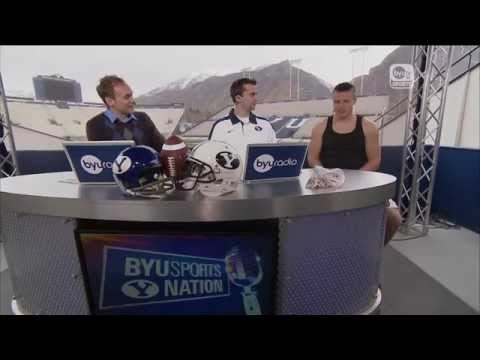 View 58 Items




We saw a lot of really good things, we saw some bad things. Some things we need to get better at and a lot of good things to build off. As a whole I was happy with how guys competed and came out and played and battled.

—BYU quarterback Taysom Hill
PROVO — Approximately 6,500 fans came out to get a first glimpse at this year's BYU football team during Saturday's open scrimmage at LaVell Edwards Stadium.
Those fans saw a lot of assumed starters standing on the sidelines while young players and newcomers competed on the field with a few returning contributors — notably quarterback Taysom Hill.
From their vantage point, coaches and players saw a bit of everything.
"We saw a lot of really good things. We saw some bad things. Some things we need to get better at and a lot of good things to build off," Hill summed up. "As a whole, I was happy with how guys competed and came out and played and battled."
The team ran 102 total plays — more than anticipated — with several highlights mixed in. Those highlights included Hill hitting Terenn Houk for a 56-yard touchdown pass and Michael Davis for a 54-yard bomb that set up another touchdown.
"I think we saw him at his best," Hill said about Davis. "It's kind of his signature thing. Mike's probably one of the fastest, if not the fastest guy, on the team, and you get him out running in the open field and he's tough to stop and tough to keep up with."
Hill followed up his bomb to Davis with a touchdown pass to Kurt Henderson from 9 yards out.
Henderson led the team with six receptions for 74 yards, while JC receiver Nick Kurtz played well with five receptions for 47 yards. Both players received praise from coach Bronco Mendenhall, along with Davis.
Hill finished with 19-of-27 passing for 307 yards and three touchdowns. He also ran the ball nine times for 48 yards. Backup Christian Stewart went 10 of 15 for 68 yards.
Both players and coaches noted the passing game looking as crisp as it has all spring.
"I thought we threw the ball more accurately and more on time than we have consistently for a while," Mendenhall said.
On defense, BYU's head coach was impressed with the play of safety Dallin Leavitt and linebacker Zac Stout, among others. Defensive highlights included Brock Markham intercepting a pass that was batted up in the air by Stout and Adam Ingersoll recovering a fumble.
The defense was generally pleased with its overall work Saturday.
"We saw a lot of good things and I continue to believe we're going to be a very good team this year," said inside linebacker Manoa Pikula. "Our defense did good stopping the run today, but there were some mistakes. I think we were worried with so many defensive linemen being out today, but their backups did real good, I thought."
Email: [email protected]
Twitter: @BrandonCGurney