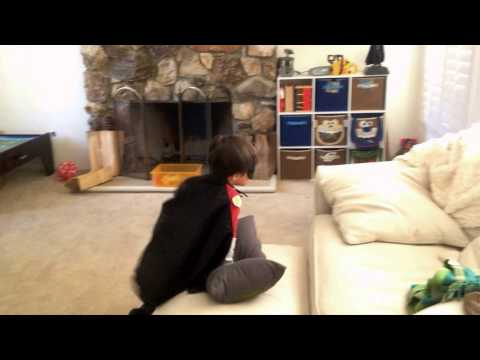 View 6 Items


Children often dream of possessing super powers, and one dad is making his son's superhero dreams come true.
According to The Creators Project, DreamWorks animator Daniel Hashimoto uses Adobe AfterEffects to turn regular playtime with his son James into mini action movies, and Hashimoto is sharing the moments on his YouTube channel, Action Movie Kid.
"My 3-year-old kid is awesome," he wrote in the channel's "About" section. "He gets into some epic situations, which remind me that life is an adventure."
Through his editing, Hashimoto shows James using a Batman-inspired grappling gun, blasting off from a McDonald's PlayPlace, activating a lightsaber at Toys R Us and launching a miniature Lego spaceship James calls the Hyperdrive. Hashimoto even brings the classic children's game The Floor Is Lava to life.
By sharing the videos on YouTube, James and his father are now bringing the childlike imagination and fun to others.
You guys should check out "Action Movie Kid" on YouTube. It's given me a well-needed smile this morning.

— Jarrod Finn (@JM_Finn) March 27, 2014
You don't have to be a dad or a VFX artist to appreciate how awesome these videos are: https://t.co/33RIZTsVOe #actionMovieKid

— Dave Glanz (@daveglanz) March 27, 2014
And the award for father of the year goes to.... http://t.co/pPpSnGd5P5 #awesome

— Stephanie VanTichelt (@SVanTichelt) March 27, 2014
While viewers enjoy the creativity and fun of the clips, the videos inspire James to keep creating too.
"Upon viewing the lightsaber and 'Iron Man' videos," Hashimoto told The Creators Project, "My son replied, 'What if I did that for real-sies, Dad?'"
See more Action Movie Kid clips on the YouTube channel.
Alison Moore is a writer for the Faith and Family sections at DeseretNews.com. She is studying journalism and editing at Brigham Young University.
Email: [email protected] Twitter: @alison_kathleen