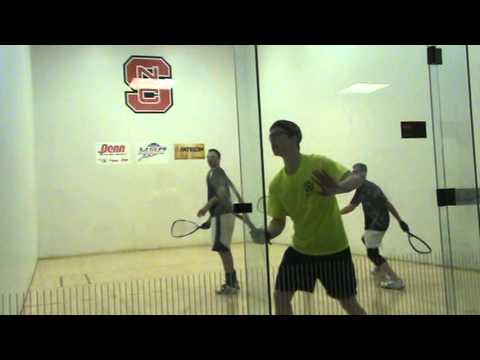 View 3 Items


The goal at the end of the day is to win games, but is also to share the BYU mission and to share the gospel of Jesus Christ.

—Braden Hess
RALEIGH, N.C. — The BYU racquetball team came home from the national intercollegiate championships with another trophy in hand.
Seven men and six women traveled to North Carolina to compete in the 2014 Wilson National Intercollegiate Championships held at the North Carolina State University Racquetball Club.
This year, the men's team placed fifth and the women's team took home a third place trophy for their performance. Overall, the Cougars placed third with a score of 1,462 points. University of Missouri-Columbia took second with 1,709 points and Oregon State took home its eighth championship trophy with 2,385 points.
"Our goal is always to stand on the podium," said head coach Paul Snyder. "We like to always be in the top three. We were fortunate enough to get that this year."
The BYU team competed against 34 teams from across the country, with a number of new players and teams competing this year.
"The field was a lot deeper this year; a lot of new schools brought in some great players," said Snyder. "The overall point totals were much closer than previous years."
Players are placed in the tournament based on how they did during regular season play and how they perform during the first two matches of the national tournament. The tournament is split into four classifications: gold, blue, red and white.
Players who win their first two matches are placed in the highest bracket: gold. Those who win their first and lose their second are placed into the blue bracket, red bracket is for those who lose then win their first two matches and white is for players who lose their first two matches of the tournament. After placing a competitor into their respective brackets, the tournament follows with single elimination.
The BYU team came into the 2013-2014 season with half of the previous men's team returning and with a brand new women's team.
"Last year was a high year, and we had a lot of good players that left," said Braden Hess, captain of the men's team. "We had no idea how we would compare in competition this year, but BYU is known as probably one of the best developmental teams in the nation. We take people who are athletic, and don't necessarily know about racquetball, and teach them how to succeed."
Hess and Kyle Rowley placed the highest on the men's team with a third place finish in the gold division of the men's singles bracket. Preston Speakman and Taylor Dolbin placed first and second in the blue division of their brackets, respectively.
In men's doubles, the team of Brian Zundel and Taylor Doblin placed third, while the team of Preston Speakman and Kyle Rowley placed fourth.
The women's team had an impressive turnout with every member medaling in their respective brackets. Krista Yourstone, Kamila Welling, Jen Tovar and Catherine Tryon had top performances with third place finishes in the gold division of their respective brackets. Sara Moulton had a fourth place finish in the gold division of her bracket and Adrienne Schneider placed second in the blue division of her bracket.
In women's doubles, the team of Yourstone/Welling came home with a second place finish and the teams of Schneider/Mouton and Tovar/Tryon placed fourth.
Although the team performed well overall, Hess noted BYU's message was just as important to share as winning.
"The goal at the end of the day is to win games, but is also to share the BYU mission and to share the gospel of Jesus Christ," he said.
1
comment on this story
BYU students interesting in joining the team for the 2014-2015 season should visit racquetball.byu.edu. Tryouts are held during the first week of October. More in-depth information will be posted this summer. Previous performances by the team can be watch on the BYU racquetball YouTube channel.
Hess encourages other students to tryout for the team, even if they don't have any previous experience with the sport.
"A lot of people don't even know there is a team or that racquetball is even a real sport," Hess said. "For me, I didn't know if I was any good at racquetball — I just took a class and tried out my freshman year. If you're athletic, just pick up a racket and try it out."
Email: crenouard@deseretnews.com