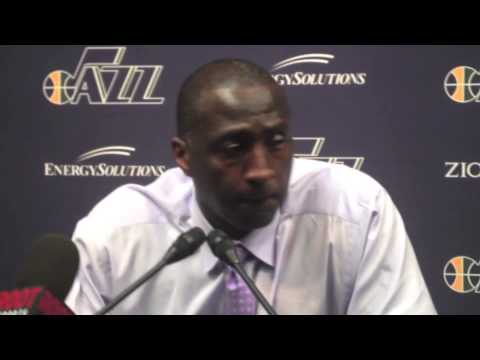 View 32 Items



SALT LAKE CITY — Monday's match-up between the Utah Jazz and the Detroit Pistons featured two of the NBA's current cellar dwellers. But at least for one evening, one team's fate was different than has usual this season.
Detroit looked sharp and focused as it ran away with the 114-94 blowout victory over the Utah Jazz. In doing so, the Pistons came away with their first win in Utah in over a decade.
The Pistons came out with great energy despite having a lethargic road record. Conversely, Utah appeared to be one step slow the entire evening. That combination resulted in an easy win for the visiting Detroit team. While the rather brisk first quarter was close, the Jazz had no answers defensively. The Pistons used a 34-17 second quarter to create an insurmountable lead.
As a result, Detroit ended a 12-year drought in Salt Lake City, winning its first game since November 2002. Utah now sits alone with the league's fourth-worst record.
Defensive breakdown: After showing some improvement, the Jazz's defense has spiraled downward the past dozen games or so. Monday's performance was prime evidence of Utah's waning defensive intensity. Detroit's first play — a simple Brandon Jennings alley-oop lob to Andre Drummond 26 seconds into the contest — set the tone and for the most part, it simply did whatever it wanted the entire game.
The Pistons ended up connecting on 46-of-83 field goals (55.4 percent), with the trio of Drummond, Jennings and Greg Monroe combined to hit 24 of 34 shots. They won the battle inside, outscoring Utah 54-44 in the paint (including 32 in the first half). Detroit also drained 9 of 17 shots from 3-point range. In a balanced attack, six Pistons scored between 12 and 19 points.
The lack of defense has been a troubling trend for Utah down the stretch. One of the goals for this rebuilding season was to establish a defensive foundation and identity and the past several weeks has been concerning. There are still 11 games in which to make some positive changes.
Comment on this story
Boarding brilliance: In addition to their offensive dominance, the Pistons absolutely controlled the glass. They not only held Utah to 41 percent shooting, but whenever the Jazz missed, Detroit also crashed the rebounds tirelessly. Led by Drummond's 14 and Monroe's 11, the Pistons won the battle of the boards, 53-33.
Odds and ends:
- The point guard duo of Jennings and Will Bynum produced 17 assists with just turnovers. Bynum doled out nine dimes without a single miscue.
- Detroit's roster sports four rookies, but only guard Kentavious Caldwell-Pope sees regular playing time.
- Utah forward Jeremy Evans has only scored six points the past five games, logging just 46 minutes during that span. He has gone scoreless the past three games.
David Smith provides instant analysis for Deseret News' Utah Jazz coverage. He works for LDS Philanthropies and also writes for Salt City Hoops (ESPN's Jazz affiliate). He can be reached at mechakucha1@gmail.com or on Twitter at davidjsmith1232.