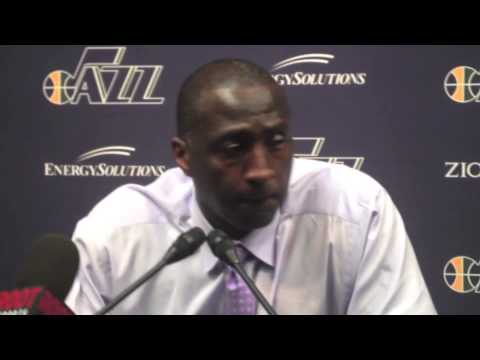 View 32 Items



The Detroit Pistons outhustled the Utah Jazz for a 114-94 win at EnergySolutions Arena on Monday night. The Pistons beat the Jazz in every aspect of the game, including rebounds (53-33), shooting percentage (55.4 vs. 41.0), 3-point percentage (52.9 vs. 25.9) and free-throw percentage (72.7 vs. 67.9).
There's not much to like about the way the Jazz played, other than Gordon Hayward's 32-point night. Detroit played as good of a game as it had played all season, and the Jazz were just plain beat.
Guards
Gordon Hayward had a big night with 32 points and six assists. For much of the game, he was the only bright spark as the Jazz struggled to make shots as he was the only player to finish with over 50 percent shooting. Trey Burke had 15 points but he also had just two assists and shot 0-for-4 from behind the 3-point line. Still, when your two starting guards combine for 47 points, your team is supposed to win the game.
Grade: B+
Forwards
Richard Jefferson hit some critical 3-point shots to help pull the Jazz within 12 after being down more than 20, but that's about it. He finished with 12 points and just two rebounds. The Jazz needed more boards from him than that, particularly since the team lost the rebounding battle by 20.
Grade: C-
Center
Despite starting both Derrick Favors and Enes Kanter, the Jazz got outrebounded 53-33. Kanter had some nice plays and 14 points on offense, but Favors struggled as he finished with four points on 1-for-5 shooting. Worse, the Jazz big men struggled with Andre Drummond and Greg Monroe, who combined for 37 points and 25 rebounds.
Grade: C-
Bench
How much does the Jazz miss Alec Burks? Burks averages 13.8 points per game from off the bench. Marvin Williams finished with 11 points and grabbed seven rebounds, but he was the only spark from the Utah bench. Diante Garrett had just four points and two assists, while Ian Clark hit two free throws after the game was pretty much over. The Jazz need Burks back and quickly.
Grade: C-
Coach
1
comment on this story
One of the hardest things to do as a head coach is to keep your team focused after a hard-fought win when playing a bad opponent. Tyrone Corbin just wasn't able to preserve what little momentum the Jazz had after beating the Magic 89-88. His team lacked the effort, particularly on defense, to win this game. That's on the head coach.
Grade: C-
Pistons
When you outrebound your opponent by 20 and shoot 55.4 percent from the field, you're going to win a lot of basketball games. Detroit played a much better game than its 26-44 record indicated. Drummond and Monroe dominated in the paint, while the Pistons' bench scored 45 thanks to big nights from Rodney Stuckey and Kentavious Caldwell-Pope. The Pistons played like they wanted this win more, and they got it.
Grade: A
Lafe Peavler is a staff sports writer for the Deseret News. Follow him on Twitter @LafePeavler.