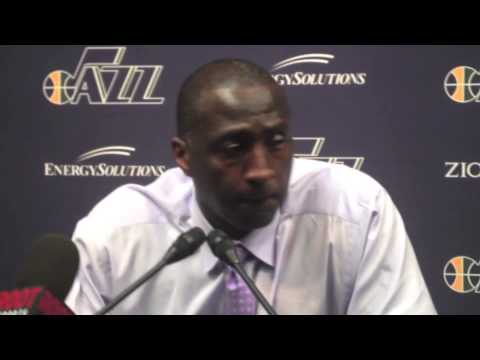 View 55 Items



SALT LAKE CITY — Utah Gov. Gary Herbert was at EnergySolutions Arena on Monday night.
Surprisingly, the governor did not declare the entire 2013-14 season — or at the very least this particularly brutal Utah Jazz game — to be an official state disaster.
Considering the Jazz dropped to 23-48 with an ugly 114-94 blowout loss to the woeful Detroit Pistons, that declaration might have been justified.
"It was a disappointing loss," Jazz coach Tyrone Corbin said.
Herbert wasn't at this game just to be a spectator with sweet seats next to Jazz president Randy Rigby. Utah's political boss was at the arena on business.
During a first-half presentation, Herbert took to the court for a ceremonial signing of a bill passed in the recent legislative session that allows Utahns to buy Utah Jazz license plates.
Proceeds of the specialized plates will be donated to help fund Larry H. Miller Charities in the Beehive State, so at least that positive came out of the night.
The rumor, which might've started on press row, that the plates will include a 2014 motto, "A pretty, great draft pick," could not be confirmed.
While their team got crushed on the court by 26-44 Detroit, falling behind by a whopping 20 at halftime, Jazz fans gave some other Utah-related license plate suggestions on Twitter:
— "Draft Pick Elevated" (@brownbearSLC)
— "Your Utah Jazz, the only thing worse than the air quality" (@jmjink)
— "This is the plates" (@DiceWiley)
One thing was certain: This wasn't the place for a good basketball showing Monday night.
Two nights after one of their most thrilling wins of the season over Orlando — thanks to Trey Burke's late 3-pointer — the Jazz simply came out and played like April 16 can't get here quickly enough.
Utah fell behind 9-2 when Corbin called a timeout and then smacked his hands in frustration as his team approached the bench just three minutes into the contest.
"We came off right from the beginning like we were running in mud," Corbin said. "I don't know if we were thinking about the other night or what. But we've got to play with a lot more energy than we showed tonight."
The Jazz pulled within two points a few minutes later and only trailed 26-23 after the first quarter, but that was about all the fight this team had until the deficit was 25 points early in the second half.
The lackadaisical effort against a bad Detroit team, one that had lost 15 of 18 games, was rewarded with one of the most dispiriting defeats of a rough season in which the Jazz have lost by double digits in 34 outings.
"We're professionals. We have to find a way to play hard every night," Jazz forward Richard Jefferson said. "I think our guys are putting forth the effort. There's not an excuse, but we're starting a rookie point guard. We're starting guys who've never played these type of minutes. There's going to be nights when you're flat.
"It (stinks). But it's the truth of the situation. Coach is right, you have to find a way, and that's part of the learning process right now."
This was an all-around poor performance for a Jazz team that's now lost 12 of its last 14 games. Detroit outshot Utah 55.4 percent to 41 percent to end a 10-game winless streak at ESA and win on the road for the first time in 14 outings.
While an off-night from the field happens, the Jazz's lack of energy and effort really showed on the boards. The Pistons killed the Jazz in that category, with the visitors outrebounding the flat-footed home team 53-33, led by 6-11 Andre Drummond (14 rebounds) and 6-11 Greg Monroe (11 rebounds).
"They outworked us," Corbin said. "We were scrambling a little bit on the defensive end, but we were a step slow on everything we did. They were quicker to the ball. At halftime, I knew they probably doubled us (28-14) and then they beat us by 20 for the game. We're a better rebounding team than that."
Starting big men Derrick Favors and Enes Kanter combined for 17 boards.
Gordon Hayward was about the only bright spot in this otherwise dreary showing. The shooting guard scored 32 points and dished out a team-high six assists.
But even his big night was no match for a Detroit squad that snapped a five-game losing streak thanks to double-doubles from its beefy frontcourt of Drummond (19 points) and Monroe (18 points) and a 45-17 advantage in bench scoring.
Guards Rodney Stuckey (19 points) and Brandon Jennings (15 points, eight assists) also outplayed former Michigan star Burke, who ended with 15 points on 6-of-15 shooting and only two assists. That, after Burke had 20 points and 12 assists in Utah's 110-89 win at Detroit in January.
9
comments on this story
The Jazz again played without their bench spark plug as sixth man Alec Burks missed his second game with a sprained left ankle. The good news there is that Burks was able to do some running Monday morning, giving Corbin hope that he'll return soon.
"We didn't have the energy that we had the other night. It's kind of disappointing," backup forward Marvin Williams said. "I think we were trying to find it, but give Detroit a lot of credit. Every time we made a push they always had an answer."
If they ask nicely, maybe Gov. Herbert would even let them buy a Utah Jazz license plate.
EMAIL: jody@desnews.com
TWITTER: DJJazzyJody