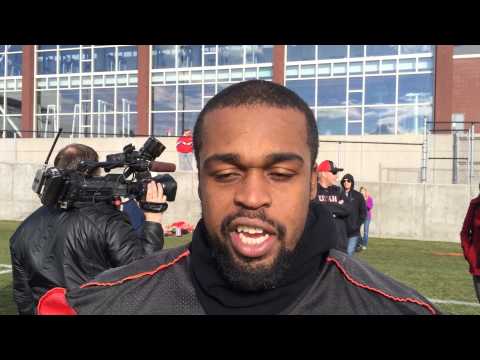 View 3 Items


I wanted to be like Ray Lewis.

—Gionni Paul
SALT LAKE CITY — Some days the regret Gionni Paul felt forced him to sit down at a computer.
In front of that screen, the 21-year-old would search for information about a coach he admired but had never played for — Dennis Erickson.
"I googled his name," Paul said of the Utah assistant coach, who was the head coach at Arizona State when Paul was a highly sought-after Florida high school player. "I kept track of his career. … When I knew he got a job at Utah, I thought, 'Let me get in contact with him.' I tried to call him as soon as possible. I called all the office phones around here, head coach, all the coaches. I just wanted to be a Ute."
What Paul really wanted was the opportunity he thought he'd lost. What he really wanted was the chance to play the game he loves for the man who made him feel like he was family.
And as luck would have it, his struggles at Miami would lead him back to Erickson and a program he knew nothing about in a state he'd never even considered visiting.
Chasing a legend, swayed by celebrity
Paul said his parents moved a lot when he was young, mostly around central Florida and North Carolina. When they ended up in Lakeland, Fla., Paul said he chose Kathleen High School because his football idol, Ray Lewis, had attended that school. While the athletic teen played three sports, football was his passion.
"I wanted to be like Ray Lewis," he said with a smile after Utah's first spring football practice last Tuesday. His affection for the former Baltimore Ravens linebacker also prompted him to abandon his original college commitment to Erickson and Arizona State when the Miami Hurricanes came calling his senior season.
Paul said he always wanted to play for Erickson but that when LSU, Auburn, Florida and Miami tried to woo him, he was swayed by the star-power of those programs, as well as their proximity to his hometown.
"Me being 16, 17 years old, it seemed like a good decision," said the 6-foot-2, 230-pound linebacker. "When Florida, Florida State, Miami came along, I thought I should stay close to home. I did regret it. My freshman year at Miami, I loved it there. But I felt like something was missing — the family part."
Just as Lewis did, Paul chose Miami, hoping it would help him follow his idol into the NFL. And while Paul found some success on the field, his struggles off it would cause him to leave Miami after his sophomore season. University officials announced it as a mutual decision, but Paul takes responsibility for his part in his off-field struggles that forced coaches to suspend him twice.
"The fast life got to me," he said. "I had a lot of growing up to do."
Paul played in seven games as a true freshman, but he really began to make his mark as a sophomore. He played in 10 games and started seven as an outside linebacker. He finished third on the team with 61 tackles, including 40 solo stops, and was a two-time ACC linebacker of the week.
Paul said when he and the university announced his departure, he had other schools expressing interest, including a couple from the Pac-12.
"Then I heard coach Erickson was coming to Utah," he said. His computer searches then expanded to Utah head coach Kyle Whittingham, defensive coordinator Kalani Sitake and the University of Utah. Then he began calling any and all phone numbers at the U., hoping to get in touch with Erickson. When he finally succeeded, coaches invited him to the Beehive State.
A new team, a new opportunity
"I came out here and I loved it here," he said. "I didn't want to leave this place. I don't even want to go back home most of the time. … On the East Coast, we don't hear much about these Western states, but I came out here and loved it. I love the mountains; I love the view; I love the coaches; I love the city, great people. So I'm blessed."
His struggles didn't concern Utah coaches. Erickson said he got to know Paul and his parents so well during the recruiting process, he understood the kind of young man they were dealing with.
"It wasn't like we were just taking a guy who had an issue or two without really knowing him or his family," Erickson said. "When he decided to leave, I checked it out, and I know what he's about."
He said he's watched a lot of boys mature into men in his football programs.
"They all grow," Erickson said. "Sometimes they learn by making mistakes. Sometimes they don't. It's like raising children. I wish I had a dollar for every child I've raised in my 40-plus years."
While Paul was lured to Utah by Erickson, he said it was Whittingham's background as a defensive coach and Sitake's philosophy that really swayed him.
"I did my own research," Paul said. "I looked him up, and I love the scheme. I love (Whittingham's) history. I love his background. Then I met him as a person, and I loved him as a person. … He cares about you, and that means a lot to me."
Paul isn't the only one thrilled with his transfer to Utah. His teammates and new coaches believe he will bring intensity, speed and leadership to the Utes in the 2014 campaign.
"He redshirted last year and played scout team because of the transfer rules," said Sitake. "We knew he was a special player. I knew about him when he was in Florida. He's from my wife's hometown. … He is really a welcome addition to our linebacking crew."
Sitake said Paul's teammates' decision to elect him one of the spring football captains speaks volumes about their faith in him.
"He hasn't stepped on the field yet," Sitake said. "To have them think that highly of him, that's a huge compliment to him and his skills."
Energy, leadership and maturity
Erickson said it was Paul's intensity that set him apart from other high school players with similar skills.
"His intensity level, how he plays, his knowledge of the game of football is unbelievable," Erickson said. "We're happy he's here, and it's the greatest thing that's ever happened to him."
Erickson said those comparisons to Ray Lewis aren't just childhood fantasies. And the coach should know. He coached Lewis when he was the head coach at Miami (89-94), and he saw similarities.
"I'm not saying he's Ray Lewis," Erickson said. "But Ray had that innate ability to see plays coming. And that's what I saw in Gionni."
Sitake said his passion and football knowledge showed even before he was practicing with the first string.
"He has so much energy and just a love for the game," he said. "Today he got to play defense with us, to run with the ones, but if you were here during the season, he was on scout team then and he had that same passion and excitement for the game. This is the best part of his day. He just loves being part of this team. When you have a guy that does that, guys automatically make him a leader." Nate Orchard was also voted a spring captain by his teammates, and he said Paul's constant enthusiasm for all things football is rare.
"He brings a lot of juice," Orchard said. "It's just an honor and a privilege to have him as part of our defense. … Whether we're in the locker room, weight room, on the field, he's getting guys fired up. He's a guy who loves being here, at 6:30 in the morning, he's a high-energy guy. He just loves it, and that's very rare. It's hard to find that in guys."
Additionally, Orchard said he sees what a hard-working, responsible man Paul has become.
"He's a great guy off the field," he said. "He's a dad to a little girl, and I see that soft side of him."
Linebacker and safety Brian Blechen agreed that Paul's energy will help the Utah defense this season.
"He's a real smart football player," he said. "The one thing he brought, whether he was on scout team or whatever, was energy."
Lessons learned
Paul said his year on the sideline was a blessing. He focused on school, even as he learned to appreciate football more.
"I grew up a lot," he said. "I had a lot of growing up to do. But I'm a father of a beautiful daughter, and I love football. I hope I can take it to the next level."
He said he wants to be for the Utah football program the kind of leader he wished he'd had at Miami.
"When I came out, I needed a friend," he said. "I needed leadership. I needed guidance. So I try to bring that to these guys."
And what advice would he give to his teenage self if he had it to do over again?
"Don't go for the big name, the glamorous," he said. "Just listen. God gave you two ears and one mouth for a reason. Listen more before you talk. And work hard, never give up."
He said the future has never been brighter for the Utes.
"I know we had a couple of 5-7 seasons, but I believe everybody rises from their downfall — just like I did at Miami."
Twitter: adonsports
EMAIL: adonaldson@deseretnews.com