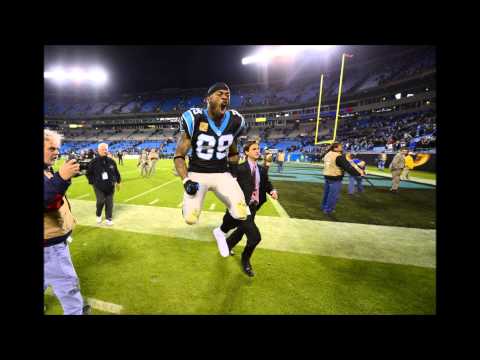 View 2 Items

Former Ute wide receiver Steve Smith has had an NFL career filled with headline-worthy moments, from his on-field success in becoming the Carolina Panthers' all-time leading receiver to his actions that have at times led to Smith being labeled a hothead.
Now there is another strange — and funny — chapter to add to his unforgettable pro career.
The enigmatic Smith — signed by the Baltimore Ravens last week after being released by the Panthers following a 13-year career in Carolina — was on "The Dan Le Batard Show" on ESPN radio recently, doing a phone interview. As he was responding to a question about which players in the NFL he dislikes, at around the 1:24 mark in the video above this dialogue occurred:
Smith: "Oh … see, you guys got me in trouble. I'm getting pulled over by the police."
Le Batard: "Right now? While we are talking to you?"
Smith: "Yep."
Le Batard: "Were you speeding?"
Smith: "No, I'm not speeding. I guess I'm on my cellphone. … How about I keep you on hold while I go through the procedure?"
Le Batard: "And you'll tell us about it when you come back?"
Smith: "Yep."
After about three minutes, Smith rejoined the show. During the interim, show co-host Bomani Jones suggested there was more than just a cellphone issue that led to Smith being pulled over. "It sounds like they're just messin' with him," Jones said. "Sounds like a man his height (Smith is 5-foot-9), driving a car that nice, they don't believe it's his."
When Smith returned to the show, at the 4:25 mark, he explained the encounter:
Le Batard: "You must have gotten out of the ticket if you're back that fast, right?"
Smith: "Hey, when you don't have any warrants or prior arrests, you know, it goes a long way with being a good citizen."
Co-host Jon "Stugotz" Weiner: "Did you drop the Steve Smith card at all?"
Smith: "No I didn't. My ID does that." (This response elicited laughter from the hosts.)
Weiner: "Does your ID say 'NFL wide receiver'? Is the cop a football fan?"
Smith: "No, my ID is cleared as no priors, so I was good."
Le Batard: "What did you get in trouble for? Being on the cellphone?"
Smith: "Nah, you know. Uhh, hey, a brother driving a nice car … you know, sometimes they got to make sure … it all matches up."
Email: bjudd@deseretnews.com; Twitter: @brandonljudd