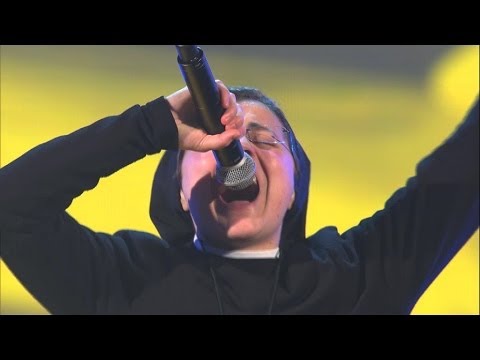 View 9 Items

Wednesday night, fans and judges of "The Voice of Italy" found a likely new season favorite during the blind auditions of the singing competition.
The moment Sister Cristina Scuccia, 25, stepped on the stage and began singing Alicia Keys' "No One," the audience members rose to their feet. Judges Raffaella Carrà, J Ax, Piero Pelù and Noemi each turned around, expressing their interest in the singer, and couldn't believe what they saw, bringing some to tears.
The audience began to chant "sister" as the judges composed themselves before Sister Cristina shared her story.
An Orsolina nun of the Holy Family from Sicily, Sister Cristina explained that she came on the show to share her talent.
"I have a gift and I am giving it to you," Sister Cristina said, according to the English captions on YouTube. "Shouldn't things be this way?"
Italian rapper J Ax was the first judge to turn around, and, after introducing himself, he asked Sister Cristina if she sings in church.
"If you do, they could pay taxes by the donations," J Ax said. "If I had met you during the Mass when I was a child, now I would be pope. I would have surely attended all the functions."
J Ax then tried to convince Sister Cristina to join his team and allow him to coach her through the competition by explaining how their differences would work well together.
"Me and you are invincible, you know why?" J Ax said. "We, together, are the Devil and the Holy Water! You have to choose me."
Sister Cristina has always loved singing, according to the video description, and as a child she dreamed of being a musician. But it was only after receiving encouragement from her mother superiors that she decided to participate in "The Voice of Italy."
When asked what the Vatican had to say about her audition, Sister Cristina explained her understanding of why she should be on the show.
"I really don't know, I am waiting for Pope Francis to call me on the phone," Sister Cristina said. "He always says we should go out and evangelize, telling God doesn't take anything away from us, but will give us more. I am here for this."
After hearing from each of the judges, Sister Cristina ultimately decided to choose J Ax as her coach because he was the first to turn around for her.
Many viewers were also touched by the performance and shared their reactions on social media.
"Just amazing," Paul Ringuette wrote on YouTube. "The reaction of the rapper judge was what made me well up in tears. There is a story behind him crying that makes the entire moment special."
Email: spetersen@deseretnews.com