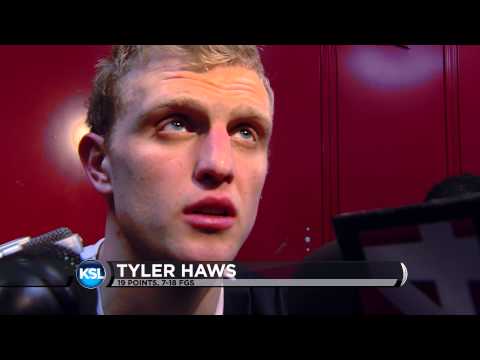 View 52 Items

I think our team did a pretty good job playing the coaches' plan, but sometimes a guy comes off the bench and kind of goes off on us.

—BYU forward Nate Austin
MILWAUKEE — The ice in the Milwaukee River was beginning to thaw, this week, after a relentless winter. Things were finally breaking up for BYU, too, in the early second half of its NCAA tournament.
Too bad for the Cougars they didn't remember to, well, duck.
So the short NCAA tournament trips are back. It's hard to go far when your second-best player is on the mat. Speaking of Matt, where did he go? Matt Carlino hit rapid 3s in the early second half to close the deficit to three. After that, he went as cold as the wind off the lake.
Oregon's Elgin Cook emerged from the bench to have his best game of the season, as the Ducks walked off with an 87-68 win. Does this sound familiar? It's a recurring theme with this year's Cougars. An opponent rides the pines, gets his call, and paints a Picasso.
Portland's Bobby Sharp had his best game of the year, getting 27 points, including eight 3-pointers, in a win over BYU in January. Pepperdine's Amadi Udenyi had a season-high 12, as did starter Malcolm Brooks. Pacific's Aaron Short got 11 against the Cougars in his best game of the year. San Francisco's Tim Derksen made 7 of 8 for a season-high 17. Cook scored a point a minute, finishing with 23 in both departments.
"It seemed like, especially in conference, guys would come off the bench — guys you've never met — and have career highs against us," said forward Nate Austin. "I think our team did a pretty good job playing the coaches' plan, but sometimes a guy comes off the bench and kind of goes off on us."
Thus, for the Cougars, unseasonable conditions prevailed. With Kyle Collinsworth — the team's top rebounder and No. 2 scorer — out with an injury, BYU had to be perfect.
"Yeah, but we needed to be better in other areas, too. They outrebounded us (37-32), they outshot us (50 percent to 33 percent), they got to the free-throw line more (38-32), they did everything a little bit better than we did," Austin said. "And that was the score."
Or maybe they can just figure out which opponent is going to win the lottery.
"Yes, we did have a scouting report for (Cook)," said BYU's Tyler Haws, "and he's really good."
Two areas the Cougars needed to address actually worked nicely in the first half. They defended the 3-pointer, limiting Oregon to 1 for 8. Also, they improved from the foul line, making 11 of 14. Both were weaknesses in the regular season.
At the same time, they couldn't avoid foul trouble. Halfway through the half, Austin, Eric Mika and Luke Worthington had two fouls apiece. Their bigs were big into trouble.
For a few minutes BYU had the unusual lineup of Josh Sharp, Skyler Halford, Anson Winder, Carlino and Worthington.
Early on, BYU seemed to have a respectable chance. Though the Cougars lost in overtime in Eugene to the Ducks, they won 10 of their last 11 before falling in the WCC title game.
But that was then and this was PK — post-Kyle.
Collinsworth got 15 points, eight assists and five rebounds in the first game against Oregon. This time he scored only brownie points, tweeting out such missives as "Proud of my teammates this year! They are going to kill it in the big dance!" and "No room or time for negative comments or thoughts #teampositive" in the preceding days.
No one was more positive than Austin, who had the attitude everyone should going into the tournament. Asked on Wednesday if it's better to go to the NIT's Final Four, like last year, or simply make the NCAA field, he said, "I think the goal is to be in the NCAA tournament. But it's not a done deal that we're going to lose (in the NCAA) or that in the NIT we're going to win. So the goal is to get here and to play your best, and there's no reason our team can't get to the Final Four in the NCAA tournament, as well."
No reason at all, except Oregon.
Email: rock@desnews.com; Twitter: @therockmonster; Blog: Rockmonster Unplugged