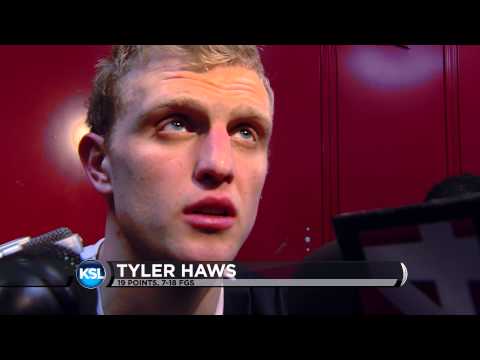 View 52 Items

They just got in the lane and got easy buckets, got to the foul line, and they just kept making plays. And you got to give them a lot of credit for answering our run.

—BYU guard Tyler Haws
MILWAUKEE — At halftime, BYU trailed Oregon by eight points in the NCAA tournament Thursday at the Bradley Center.
And that was the good news for the Cougars.
No, the rematch between No. 10 seed BYU and No. 7 Oregon played out nothing like the first game between the Cougars and Ducks in Eugene except in one way — Oregon won again, 87-68.
The Ducks, who rallied to edge the Cougars in overtime, 100-96, in December, had an easier time with BYU in the NCAA tournament. They advanced to the next round and will face No. 2 seed Wisconsin Saturday.
The Cougars, meanwhile, finished their season with a 23-12 record, and failed to win a national postseason tournament game for the first time since 2009.
Of course, as expected, BYU missed guard Kyle Collinsworth, who suffered a season-ending knee injury last week.
"It was extremely difficult with the injury to Kyle," said coach Dave Rose.
Still, despite struggling for much of the first half, the Cougars cut a 15-point deficit to three points, 56-53, on a 3-pointer by Matt Carlino with 12 minutes remaining in the game.
"I think everyone was pumped at that point," said Carlino, who replaced Collinsworth in the starting lineup.
But Oregon responded with a 30-9 spurt to put the game away. At that point, the Ducks led, 86-61.
What happened over that nine-minute stretch?
"Their coach (Dana Altman) called timeout (after BYU cut the deficit to three). Timeouts are super-long in the tournament," Carlino explained. "I think he told them to get stops and we were just sitting there, wanting to get back out on the floor. They executed from there and we kind of lost our juice after the timeout. We couldn't catch them after that."
"They just got in the lane and got easy buckets, got to the foul line, and they just kept making plays," said guard Tyler Haws. "And you got to give them a lot of credit for answering our run."
Oregon shot 68 percent from the floor over the first 16 minutes of the second half.
At Eugene, BYU led almost the entire game. At the Bradley Center, the Cougars went up 2-0 on a Haws jumper, and never led again. Every time BYU started to mount a comeback attempt, the Ducks answered.
Oregon forward, and Milwaukee native, Elgin Cook scored a career-high 23 points, and grabbed eight rebounds. It was just the latest example this season of a role player enjoying a career night at the Cougars' expense.
"Yes, we did have a scouting report for him," Haws said, "and he's a really good player. He got to the foul line and found a way to get easy buckets."
Oregon guards Joseph Young and Jason Calliste combined for 33 points and Johnathan Loyd dished out six assists.
The Ducks had their way inside, outscoring BYU 36-14 in the paint.
"It all came down to their ability to penetrate the ball," Rose said. "It didn't matter if it was Johnathan Loyd or Joseph Young or Calliste. They all took turns penetrating the ball in, and then as soon as we would step up and help, they would find whoever it was. Cook was the man that benefited most."
Over the first 10 minutes of the game, BYU post players Eric Mika, Nate Austin and Luke Worthington were saddled with multiple fouls, forcing Rose to try unconventional lineups.
Oregon led 39-24 with three minutes left in the half before the Cougars rallied with a 7-0 run to end the half. BYU was down 39-31 at intermission despite shooting only 28 percent from the field.
Haws hit a jumper to start the second half to pull the Cougars to within six points. During one stretch later in the half, Frank Bartley IV and Carlino buried 3-pointers that brought BYU to within 56-53.
But the Ducks made sure this game wasn't close at the end.
Mika finished with 15 points, going 11 of 16 from the free-throw line to go along with seven rebounds, while Carlino scored 15 points on 4-of-16 shooting. Carlino also had five assists.
Haws ended up with 19 points on 7-of-18 shooting. Bartley had 10 points off the bench.
"We shot a few rushed shots and forced shots tonight, but even the shots that were in rhythm and in our pace seemed to be a little bit more contested," Rose said. "It seemed like even Tyler, when he got a little open, was kind of rushed and maybe that affected our shooting percentage."