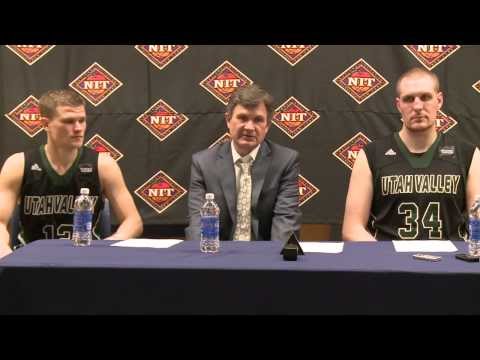 View 17 Items

BERKELEY, Calif. — The prevailing notion about the National Invitation Tournament is that about half the teams really want to be there, while the other half would just as soon go home. That was proved Tuesday night when No. 8 seed Robert Morris easily beat No. 1 seed St. John's.
Meanwhile, there was no doubt that Utah Valley was excited for Wednesday night's NIT game against Cal at Haas Pavilion. It was the first-ever NIT appearance for the Wolverines, and coach Dick Hunsaker called it "a big deal" earlier in the week.
Unfortunately for UVU, which hung close for much of the contest, the Bears played like they wanted to be there also and ended the Wolverines' season with a 77-64 victory.
The Bears (20-13) move on to play Arkansas Monday in the second round, while Utah Valley's season comes to a close at 20-12.
One of the biggest keys for the Bears was their shooting. They came into the game shooting only 45.1 percent on the season, but they shot extremely well Wednesday, making 32 of 61 for 52.5 percent, their fifth-best mark of the season.
"Frankly, if we hadn't shot the ball very well, it could have been dicey,'' said Cal coach Mike Montgomery.
"We have to compete a little harder,'' said UVU coach Dick Hunsaker. "When you play this kind of competition, you have to get down in the trenches and do a better job defensively than we did.''
UVU seniors Holton Hunsaker and Ben Aird, both first-team All-WAC players, led the way with 22 and 19 points, respectively. Aird also led his team with nine rebounds. The Wolverines finished with 41 percent shooting on the night.
Montgomery praised Holton Hunsaker, saying, "We knew he was a good shooter. He shot the ball well and made a believer out of us.''
Montgomery also praised the Utah Valley team for its effort Wednesday night.
"They're very well-coached,'' Montgomery said. "The thing thing you need to understand is that 10 of their 12 players have been on Mormon missions, so you've got experienced guys that know how to play. I'm telling you, guys from Utah know how to play basketball. They execute and can really make it tough on you.''
The Bears had balanced scoring, led by junior forward David Kravish, who scored 14 points and also added 10 rebounds and five blocked shots. All-Pac-12 guard Justin Cobbs and freshman Jordan Matthews each had 13, Jabari Bird added 11 and Jeff Powers had 10. Cal 6-10 starting center Richard Solomon didn't play due to a concussion.
After trailing by nine at halftime, 43-34, the Wolverines were keeping things close in the second half and were down just 49-43 after Aird scored inside at the 15:07 mark.
But before the Wolverines could hardly blink, the Bears ran off 11 straight points in less than two minutes as Kravish scored inside, Cobbs hit a 3-pointer and Powers, a little-used 6-7 senior, knocked down back-to-back 3-pointers to make it 60-43.
"We kept it close for a while, but then they got that spurt,'' said Coach Hunsaker.
Thanks to Holton Hunsaker's 13 first-half points, the Wolverines stayed close most of the first half, taking early leads of 17-16 and 23-20. They were still close at 30-28 when the Bears went on a 13-4 run to go up by 11 points before UVU got a tip-in at the buzzer from Zach Nelson.
Hunsaker hit three 3-pointers in the first half to keep UVU close, but he cost his team and himself with a technical foul in the final minute.
He was upset after knocking away a pass to Cobbs in front of the Cal basket. However, the official whistled the foul on Hunsaker, his second of the game. His father argued with the official who made the call for several seconds when suddenly another official called a technical on young Hunsaker, who was sitting on the bench, which counted as his third foul of the game.
When asked about it afterward, he said, "It was just me being dumb.''
This marked the final game for Utah Valley seniors Hunsaker, Aird, Keawe Enos and Taylor Brown. Starters Mitch Bruneel (junior) and Zach Nelson (freshman) will be back, along with sophomore guard Hayes Garrity, UVU's top reserve.
Coach Hunsaker praised his seniors afterward.
"Holton and Ben are special in that they are both four-year starters and have set the standard for the future," Coach Hunsaker said. "They know about winning, are terrific leaders, and it's been a real privilege to coach both of them.''