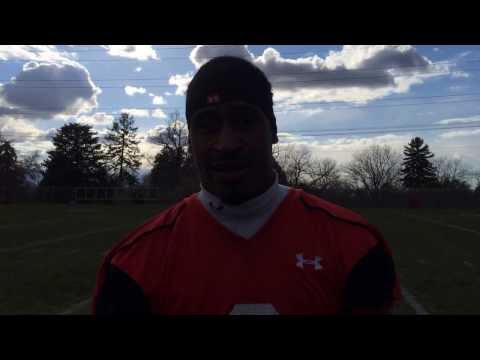 View 24 Items




SALT LAKE CITY — Utah coach Kyle Whittingham said the first day of spring ball went about as expected — a lot of energy and a lot of learning.
"Timing's a little rough right now," he added. "Obviously we've got a lot to work on, but it was a good first day and a positive practice overall."
The Utes' initial two-hour session took place in chilly weather Tuesday afternoon. Among the highlights was the return of starting quarterback Travis Wilson, who took the field for the first time since an intracranial artery injury was discovered before the last three games of 2013. The junior was cleared for noncontact drills this spring and hopes to receive full medical clearance this summer.
"It's good to get him back," said Whittingham. "He's rusty. He spent most of the offseason doing nothing. He wasn't cleared to do much of anything at all. So it was good to get him back out there and he's happy to be back out there."
Wilson acknowledged that he thought about it throughout practice.
"I'm really blessed that I get another opportunity to play and I've got to make sure I take full advantage of it," he said.
Whittingham noted that Wilson is the incumbent, but that there was "a lot to be sorted out at that position." The Utes have six scholarship quarterbacks in spring camp. Oklahoma transfer Kendal Thompson and Louisiana prep star Donovan Isom join the mix this fall.
"We got a decent start on it today. Every day is going to be evaluated and scrutinized," Whittingham said. "It's going to be a process where we've got to get some decisions made sooner rather than later to at least thin the herd out a little bit and decide who we are going to sink the reps into."
The primary candidates behind Wilson this spring are junior Adam Schulz and redshirt freshmen Brandon Cox, Conner Manning and Micah Thomas. Former Wyoming quarterback Jason Thompson can't play in games until 2015 because of NCAA transfer rules.
Utah resumes spring camp Thursday.
OFFENSE: New offensive coordinator Dave Christensen liked, for the most part, what he saw on the first day. He said the effort and enthusiasm was good.
"We've got to be able to play faster, but our tempo was good. We got aligned. We got the ball snapped," Christensen said. "We've got to play faster when the ball is snapped and that will come as our conditioning level increases, but overall I was pleased with the effort today."
The big thing, he emphasized, is learning to play fast and with great tempo when the ball is snapped. To do so, Christensen noted that the Utes have to be in great shape.
And that's not all.
"We want to work on gaining great knowledge every day of everything we install so that we have a good grasp of everything that we're trying to do offensively by the end of spring," Christensen said. "Not that we'll be perfect, but have a great understanding of what we're trying to do and then each and every day we've just got to become more fundamentally sound."
DEFENSE: The Utes have a few holes to fill this spring, replacing all-conference honorees Trevor Reilly, Tenny Palepoi and Keith McGill, as well as three other starters.
Utah defensive coordinator Kalani Sitake is hoping to solidify the situation a bit this spring.
"I'd just like to see some of these young guys get a lot of experience in the 15 practices that we have," he said. "In the offseason I've seen a lot of guys that have worked awfully hard and it showed today on the field."
Sitake noted that with the players not wearing a lot of pads you could really look at the defensive backfield and see the things they have done in terms of coverage. He credited safeties coach Morgan Scalley and cornerbacks coach Sharrieff Shah for doing a great job with the group.
"They seem a lot more improved but that was just day one," Sitake said. "The goal is to do it every day.
Sitake added that senior safeties Brian Blechen and Eric Rowe are leaders with a lot of experience that have helped with that group.
"We'll see how quickly these other guys grow up," he said, then turning his comments to the younger players up front. "I thought they did well, but we'll see when we get the pads on."
SPECIAL TEAMS: Utah's new special teams boss — Whittingham — has a simple approach to things this year. He wants the Utes to continue to be good at what they do well and improve their deficiencies.
"Special teams was a strong suit for us in most areas last year," Whittingham said.
Punter Tom Hackett and kicker Andy Phillips are listed as preseason All-America candidates. Snapper Chase Dominguez is also back. Hackett was the holder on kicks.
"We need to continue to be efficient there like we were last season," said Whittingham, who noted the Utes had work to do when it came to returning kickoffs and punts. He said they were just average in those aspects last season.
EXTRA POINTS: Whittingham said that defensive backs Reggie Porter, Justin Thomas and Rowe were among the standouts on opening day. ... Hackett drew praise for punting the ball exceptionally well. ... Quarterback Micah Thomas also saw action at receiver. ... Defensive end Moana Ofahengaue, who was critically injured in a motorized bike accident last month, is back on his feet and observed practice.
Email: dirk@desnews.com
Twitter: @DirkFacer