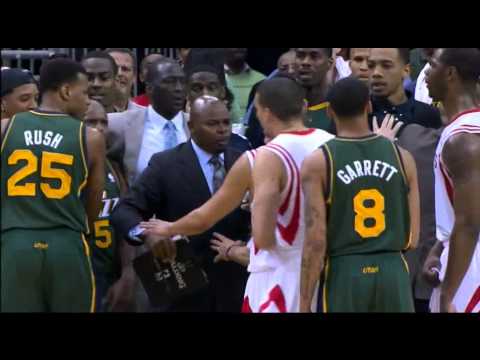 View 2 Items

I picked a great game to have my mom in the crowd. Utah, I apologize. I just hate losing, I always will.

—John Lucas III
MEMPHIS, Tenn. — About an hour after his run-in with Francisco Garcia, Jazz guard John Lucas III took to social media to apologize for getting involved in a brief shoving match and squaring off against the Houston forward.
"I picked a great game to have my mom in the crowd," Lucas, a Houston native, wrote on Twitter. "Utah, I apologize. I just hate losing, I always will."
Turns out, Lucas and Garcia will not be punished by the league for their confrontation at the end of Monday night's game, NBA PR informed the Deseret News.
Lucas calmly expressed his frustrations in the locker room after the Jazz dropped their fifth straight and fell to 22-46 during a season in which he's played sparingly. He called his action of stealing the ball with five seconds left "messed up" but didn't back down from pushing Garcia after the Rockets player put a "cheap shot" elbow in his ribs.
Lucas didn't believe his actions were worth a formal NBA punishment.
"Ain't no punches were thrown. It was just a little push, words were (said)," he said. "(Nobody) actually throw some punches. We did square up, but sometimes you deal with some you've got to deal with the consequences."
EMAIL: jody@desnews.com
TWITTER: DJJazzyJody