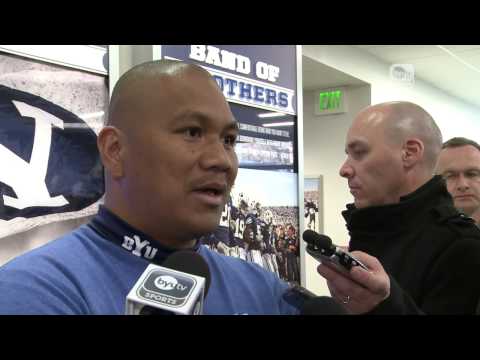 View 3 Items


PROVO — Taking on a leadership role can be a challenge for anyone, but perhaps especially so for someone young and outside of the cultural mold of those he's being asked to lead.
Running back Jamaal Williams has done a lot for BYU football over his first two seasons, and now he's being asked to take on a real leadership role. It's an assignment he initially didn't want after being approached by position coach Mark Atuaia.
"From the ending of the game last year against Washington it's been my goal with him to make him a real leader on this team," Atuaia said. "I sat him down and told him I wanted him to be more vocal and to be someone people go to."
Williams reluctantly took up Atuaia's challenge and has made a concerted effort to bark out words of instruction and encouragement to those around him, and in particular, to those in front of him.
Fronting Williams is an offensive line consisting largely of LDS returned missionaries. They're players who fit the general mold of a BYU student while being quite a few years older than Williams, who entered BYU's program soon after he turned 17 years old.
"It's weird, honestly," Williams said of his new role. "It's weird for me because everyone is like a lot taller than me — especially the linemen. It's hard, but it's fun when they react to me trying to get them pumped up. ... It's an honor for them to respect me so much to listen to me and accept me for what I'm trying to do."
The leadership role he's working hard to embrace continues off the practice field as well. When going over film in individual position meetings, the offensive linemen and running backs often interact in a fun, but instructive way.
"If one of us (messes) up either they'll come into our room to tell us we messed up or we'll go into their room," Williams said. "One time they messed up and I went into their room and I just looked at them and threw the chair down saying, 'Get your stuff together!' But they knew I was just playing."
Overall, Atuaia has been impressed with Williams' response to his leadership challenge.
"It's not easy for him because he's a lot different than most players on this team with just where he's from and with being so young," Atuaia said. "He's with guys a lot older than him, but I tell him that when we're between those lines your position, and your status on this team, entails that you have to lead. I doubt he'd hang out with these guys aside from being their brothers on the football team, but he's doing a good job at it so far."
Communication and developing trust between teammates is of the utmost importance to Atuaia, who believes the team's overall performance will improve as a result.
"You have to trust those you play with and respect them to be successful," Atuaia said. "I think Jamaal has done a great job developing respect with his play, but now he's developing even more respect by being a true leader. We'll be a better offense because of it."
Email: bgurney@desnews.com
Twitter: @BrandonCGurney