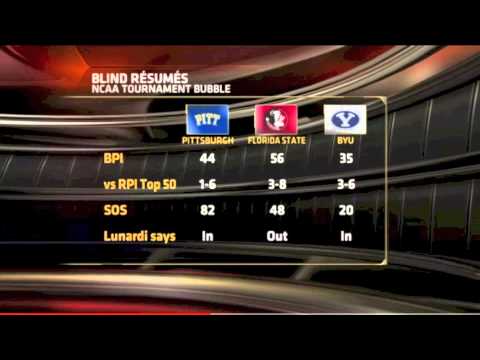 View 10 Items

Throughout the week leading up to the NCAA tournament bracket's unveiling Sunday afternoon, national media pundits shared their opinions about BYU's chances of making the field.
The consensus was the Cougars would be one of the final teams in the Big Dance, if they made the tournament at all.
BYU earned an at-large No. 10 seed in the bracket and will play the Pac-12's Oregon for the second time this season. The Ducks defeated the Cougars 100-96 in overtime in late December.
During a halftime show prior to the tournament's unveiling, though, two ESPN broadcasters showed their support for BYU in a blind resume test, then backtracked when it was revealed they had picked the Cougars.
Jay Williams and Digger Phelps were presented with a blind resume group of three teams that paired BYU with the ACC's Pittsburgh and Florida State. Based off the numbers, both Williams and Phelps picked the Cougars, Team C in the blind test, as the most deserving of a tournament bid. BYU had the best RPI, strength of schedule and record against Top 50 RPI teams of the group.
The two broadcasters then went on the defensive. Williams pointed to key wins, saying the Cougars' lone "signature" win came against Texas, while Florida State had victories over Virginia Commonwealth and Massachusetts.
"To me, it's always the eye test," Phelps said. "Because if I take the eye test right now, Florida State and Pitt are better than BYU."
Florida State didn't make the field, while Pittsburgh earned a No. 9 seed.
Following the NCAA selection show, the national media weighed in on the Cougars' No. 10 seed.
USA Today's Chris Chase said that Iowa, who was slated for a play-in game as a No. 11 seed, deserved a better placement than the Cougars.
"Iowa wasn't even thought to be on the bubble, while BYU was either in or out, depending on which prognosticator was making the call," Chase wrote.
ESPN's Andy Katz called BYU one of the winners from Selection Sunday.
"The Cougars had a shaky résumé and looked to be one of the last four in, but got comfortably in as a No. 10 and face No. 7 Oregon in a rematch game from earlier in the season — a four-point overtime loss in Eugene, Ore.," Katz wrote.
Email: bjudd@deseretnews.com; Twitter: @brandonljudd