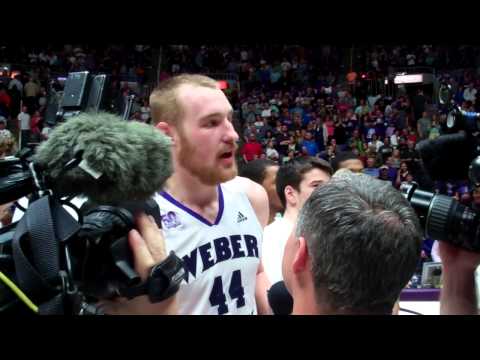 View 119 Items

I've been waiting four years for this. No words can express the feeling I have right now, and the love I have for my teammates and the coaching staff.

—Weber State's Kyle Tresnak
OGDEN — It's safe to say the Weber State Wildcats officially have the University of North Dakota's number.
In a battle of the best of the Big Sky with an invitation to the NCAA tournament on the line, Weber State came out firing to blow past UND, 88-67, Saturday night at the Dee Events Center.
Since UND joined the Big Sky, WSU has posted a perfect 6-0 record against the green and white, none of which were more monumental than Saturday's conference championship victory.
"I don't know what it is for sure, but I just think we've got our confidence up when we play them," Weber State head coach Randy Rahe said of his team's success against North Dakota. "Maybe it's because we've had some success, but I think our guys feel pretty good when we do match up with them."
With the win, Weber State secured its first invitation to the Big Dance in seven years.
"I've been waiting four years for this," senior big man Kyle Tresnak said after the game. "No words can express the feeling I have right now and the love I have for my teammates and the coaching staff."
The purple and white controlled the game from the opening tip and shot the lights out as they went 10-of-11 from the field and 5-of-6 from 3-point range over the first 9:30 minutes of the contest to build a healthy lead.
However, just as all great teams do, North Dakota battled back and slowly started to chip away at the deficit to remain within striking distance of the first-seeded 'Cats.
That's when senior star guard Davion Berry and his fellow starters began to take over.
The WSU starters bounced back from their off-shooting night and combined for 36 of WSU's 44 first-half points as they shot 12-of-17 from the field in the first 20 minutes.
Tresnak finished with a career-high 27 points and five rebounds, while Berry chipped in 19 more and four assists to lead the 'Cats in the win.
"The seniors took it upon themselves to huddle us up," said Berry. "We really showed senior leadership tonight, and the young guys followed."
After a couple of Weber State miscues and turnovers in the final minutes of the first half, UND opened up an 8-2 run to trim the lead to just seven with under 2:00 left in the half.
The two teams swapped a couple of baskets before Berry drove the length of the court and drilled a buzzer-beating trey as time expired to put Weber State back up by 10 at the break, as Berry celebrated with former WSU and current NBA standout point guard Damian Lillard before heading to the locker room.
"It was a great feeling … he is my brother," Berry said of his celebration with Lillard. "We were texting back and forth all week and he told me, 'Go get this one for me, too,' so I just wanted to keep that in the back of my head and get this for my family and friends back at home."
12
comments on this story
The Big Sky Conference MVP and his teammates wouldn't slow down in the second half as they continued their hot shooting with high-percentage shots and precision passing to cruise the rest of the way to earn the double-digit victory.
Weber State will now wait to see what team it will take on in the NCAA tournament, which is set to get underway Tuesday morning.
"We are playing pretty good, and that's a good thing," Rahe said. "I think we've got a lot of confidence and momentum, and we are excited to find out who we are going to play and where we are going to play. All I do know is, whoever we're going to play, we're going to be ready."
Ryan Love is a full-time student at the University of Utah studying communications and has been a part-time sports reporter and scoreboarder for the Deseret News since October 2012.
Follow him on Twitter @RLove7724
EMAIL: rlove@deseretnews.com