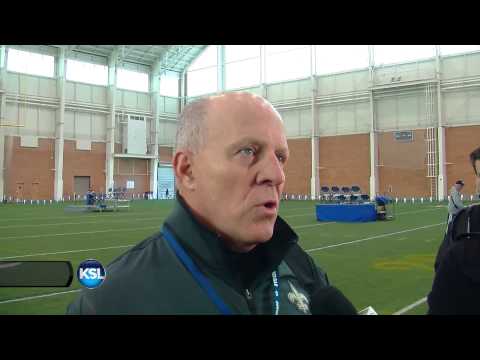 View 35 Items





PROVO — Around 21 NFL scouts made their way to BYU Friday for the football program's annual Pro Day. Eleven former players were in attendance for the workout, of which 10 performed a variety of drills to showcase their ability to play at the next level.
Outside linebacker prospect Kyle Van Noy headlined the event and was joined by JD Falslev, Kaneakua Friel, Spencer Hadley, Cody Hoffman, Eathyn Manumaleuna, Marcus Mathews, Daniel Sorensen, Uani Unga (did not participate), Manaaki Vaitai and Richard Wilson.
"I think it went really well," Van Noy said of his overall performance. "I felt like I was pretty crisp … I (enjoyed) the environment (being) with people you've trained with for four years here. It was fun."
Van Noy didn't participate in the standard drills to start the day's workout but was worked out intensely by a trainer from the San Diego Chargers to close out the one-day workout. The 6-foot-3, 246-pound prospect feels he was able to build upon his NFL Combine performance and is hoping for the best between now and the NFL draft, which will begin on May 8.
Most NFL draft experts project Van Noy to be taken in either the second or third rounds, although he says he's not putting much thought into it.
"Who is the No. 1 pick?," Van Noy rhetorically asked the media. "Nobody knows," he answered, so I have no idea where I'm going."
Van Noy says he's been in contact with all 32 NFL teams and will be visiting a lot of those teams in the coming days leading up to the draft.
So how many teams and how many workouts between now and the first week of May?
"I have a lot," Van Noy answered with a chuckle when asked of specific workouts scheduled. "It will be busy, but it will be good. That means people are interested, and you can't go wrong with that."
Other standouts included safety Daniel Sorensen, defensive lineman Eathyn Manumaleuna and receiver Cody Hoffman — both of whom have an outside shot of being drafted in the later rounds
Like most, Sorensen entered Friday's workout with a goal of improving the stats he put up at the NFL Combine, which was held in February.
"I was a little frustrated with some of my scores and times at the combine, so that's what I wanted to come out here (for) and see if I could improve," Sorensen said. "I feel it was a good day of work. I feel I improved on the things I needed to improve on."
Like others, Sorensen wasn't made aware of his exact times but feels he did enough to improve his overall stock.
One national analyst who is already buying stock in the former Cougar safety and special teams standout is ESPN draft guru Mel Kiper, who blogged about Sorensen being underrated.
So did Sorensen take comfort in Kiper's words or even read the article?
"No," he answered emphatically. "I saw it, but I didn't read the article. I think I re-tweeted it, but I didn't read it … I don't like all the attention. I just like to show what I can do on the field or through a drill or something like that. I don't need too many compliments or things like that."
Other former players, such as Marcus Mathews participated simply because football is what they know and love.
"I've played football my whole life. I love it, so why not try it for the next three months and maybe I can go a little bit longer," Mathews said. "If I don't make it, then that's OK. I have a future, a wife and a baby. My life is good. If I can go play for a little bit longer, then great. If not, then it's all good. … If I get something, I'm blessed. If not, I'm still blessed."
Email: bgurney@desnews.com
Twitter: @BrandonCGurney