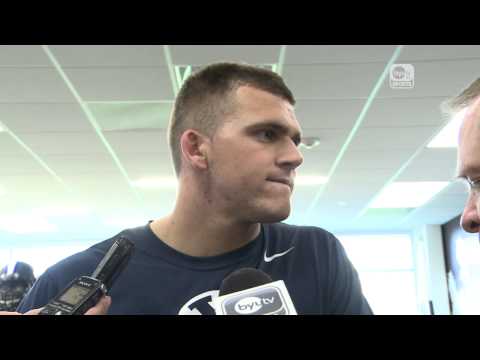 View 2 Items

It's been kind of hard on us physically because we're not used to grinding like that every day. It's getting a lot better and I see all these returned missionaries out there and it's like they didn't skip a beat.

—Graham Rowley
PROVO — BYU coaches are never quite sure what kind of contributions they'll get from players returning from LDS missions.
Some never regain their gridiron prowess. Some take time to get ready to contribute. And some pick up almost right where they left off.
Defensive linemen who recently returned from missions for The Church of Jesus Christ of Latter-day Saints have been falling into the latter category.
Players like Graham Rowley, Travis Tuiloma and Kesni Tausinga have roundly impressed coaches with their early play this spring after getting back from missions.
None of them are currently where they need to be, but coaches believe they're well on their way to not only contribute — but lead the way.
"There's a great chance they'll both be starting," said BYU coach Bronco Mendenhall when asked specifically about Rowley and Tuiloma. "But they were good players before, so they're not only going to push the depth. They could very well be on top of the depth (chart) going into fall."
Rowley is most likely to contribute at defensive end, while Tuiloma is vying for a spot at nose tackle. Both players returned to a relatively wide-open competition and are making the most of it two weeks into spring practices.
"Things are looking great the farther along the road that I get," Rowley said. "I'm pretty excited for this year."
Rowley entered spring listed on top of the depth chart, which speaks loudly to the lack of returning depth at defensive end, but maybe even more so to the impression Rowley left before embarking on his mission service to Chicago.
"That's probably the greatest advantage that I've had," Rowley said about his prior experience. "I played for two years before I left and coming back ... the plays are just clicking. I forgot about them for two years, but for some reason they're still in my memory. ... It's easier than I thought it would be."
Some things are harder than he remembered, however — specifically the pace of practice that is often dictated by offensive coordinator Robert Anae's "go-hard, go-fast" system.
"I can't even handle three plays," Rowley said of practices. "They're so quick to the ball (and) starting up again. It's really cool, and I think it's going to help us out a lot with our conditioning and with recognizing the formations a lot faster."
Another help is simply being surrounded by players in the same boat. Since being home, Rowley has relied on teammates such as Tuiloma and offensive lineman Ului Lapuaho.
"It's really cool being with them in this returning process," Rowley said. "It's been kind of hard on us physically because we're not used to grinding like that every day. It's getting a lot better and I see all these returned missionaries out there and it's like they didn't skip a beat. It's pretty cool to see how fast people can get back from that."
Rowley is currently battling with fellow defensive ends like Remington Peck, Theodore King and Tomasi Laulile for spots, while Tuiloma is in competition with JonRyheem Peoples, Josh Carter and Tausinga at nose tackle.
Although most of the returned missionaries have left good first impressions, defensive line coach Steve Kaufusi will be the first to tell you they all have a ways to go.
Perhaps the biggest strides Rowley and Tuiloma specifically need to make is in the weight room. Rowley went from 285 pounds before his mission to a current weight of 258, while Tuiloma has gone from a hefty 325 to just 275.
"We need to get them bigger and stronger," Kaufusi said.
But overall, Kaufusi is excited about the prospects for his position group.
"This year I'm actually excited because we have depth," Kaufusi said. "We have a bunch of kids that are going to step up and play and find a role. ... Last year, we were just trying to get through the season and make it."
Email: bgurney@desnews.com, Twitter: @BrandonCGurney