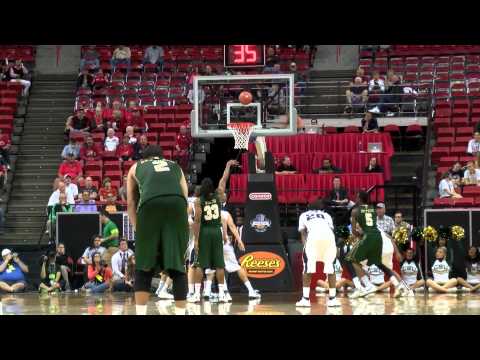 View 21 Items

LAS VEGAS — Between the two of them, Utah State coach Stew Morrill and Colorado State coach Larry Eustachy have coached nearly 1,600 games over 50 combined seasons. Yet neither coach had ever seen anything like what transpired in the final minute and a half of Wednesday' first-round game in the Mountain West Conference tournament.
Down nine with less than 90 seconds left, the Aggies went on a 16-3 run, fueled in part by a technical foul by a Ram player in the final minute, to pull out an astonishing 73-69 victory at the Thomas & Mack Center.
The win propels the Aggies (18-13) into Thursday's quarterfinals against top seed and No. 8-ranked San Diego State at 1 p.m. MDT.
"I've been coaching a long time and never been part of something like that,'' said Morrill. "That was wild, but credit these guys. About everything that could go right, went right for us. And everything that could go wrong, went wrong for them.''
For Colorado State's Eustachy, who spent five years in Logan as the Aggies' coach, it was a devastating defeat.
"It was one of the most unusual, uncanny chain of events that I've seen in 20-some-odd years as a head coach,'' Eustachy said.
So what exactly happened?
Well, the Aggies started making 3-pointers, the Rams committed a couple of turnovers and missed a free throw — and perhaps most significantly were assessed a technical foul. Utah State capitalized on all of the Rams' errors.
The Aggies looked dead in the water when J.J. Avila made a pair of free throws with 2:40 left to put the Rams up 62-51. It wasn't any better a minute later when Dwight Smith, who led all scorers with 21 points, scored inside to make it 66-57 with 1:35 left.
Then everything went the Aggies' way.
First, TeNale Roland made a layup with 1:24 left. Then after a missed free throw on the front end of a one-and-one by Smith, freshman Jalen Moore sank a 3-pointer at the 59-second mark to make it 66-62. A few seconds later, CSU's Daniel Bejarano lost the ball in the backcourt against the Aggies' press.
Preston Medlin missed a 3-pointer, but Moore grabbed the rebound and got the ball to Spencer Butterfield in the corner, where the senior guard drilled a 3-pointer to make it 66-65 with 40.7 seconds left.
That's when things got crazy.
CSU's Bejanaro, who had just made a turnover and was in the midst of a dreadful 2-for-17 shooting game, exchanged words with USU's Jarred Shaw and then Roland, and was given a technical foul. Butterfield made the ensuing free throws to put the Aggies up for good at 67-66. He made four more down the stretch along with a pair by Moore as the Rams only scored three more points.
Head official Randy McCall was asked to provide a statement of the reasoning for the technical foul.
"Following a made basket (by Butterfield), player No. 2 from Colorado State (Bejarano) began taunting Aggie player No. 5 (Jarred Shaw). When (Shaw) turned around to walk away, (Bejarano) began taunting another Utah State athlete. (Bejarano) was assessed a Class A unsporting technical foul based on Rule 10, Section 3, Article 10.''
Eustachy said the officials explained to him that they had no choice but to whistle the technical after Bejarano said something to a second player. Bejarano told a Fort Collins writer that he was shoved by an Aggie player and he thought the officials should have separated him and the USU player rather than call a technical.
"It happened,'' said Eustachy. "The only thing you can do is learn, as I can continue to learn as a coach. You can also learn as a player. It's a tough learning experience for him.''
The Aggies were led by Medlin with 17 points and Butterfield and Roland with 14 apiece. After shooting in the low 30 percent range for most of the game, they ended up at 40 percent thanks to their late run, and 52.4 percent from 3-point range on 11 of 21.
7
comments on this story
USU got off to a hot start and led 24-14 midway through the half. However the Aggies got stuck on 27, missing their next five shots and committing a pair of turnovers. Just like that it was 29-27 for the Rams, and the two teams went into halftime tied at 31.
The Rams scored the first four points of the second half and led the entire half until the crucial technical in the final minute.
"I thought we were the tougher team for 38 minutes,'' said Eustachy. "Unfortunately it's a 40-minute game. Give Utah State all the credit.''