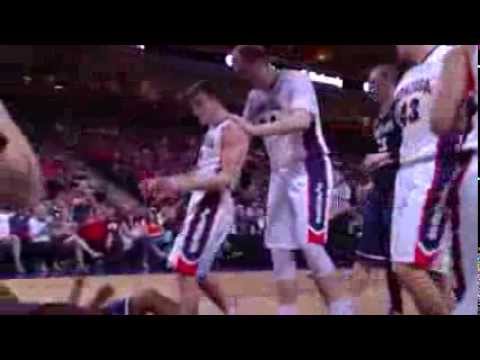 View 31 Items




We came out a little winded. But our legs were there.

—BYU guard Tyler Haws
LAS VEGAS — BYU's latest appearance in a conference tournament championship game took on a very familiar hue right after tipoff against regular-season champion Gonzaga on Tuesday at Orleans Arena.
The other guys shot lights out.
The BYU guys couldn't buy buckets.
Tyler Haws scored 24 points, but for the second straight night had to find other ways to make an impact. "We came out a little winded," he admitted. "But our legs were there."
No. 1 seed Gonzaga was going to be in the NCAA tournament regardless of the outcome, and a BYU win would've worked for the league. The WCC, which now waits for the NCAA tournament selection committee to announce the brackets on Sunday, expects two bids to go to the two teams that battled here Tuesday. Many experts project BYU in the tournament after defeating San Francisco in the WCC semifinals Monday.
But a dramatic and disappointing knee injury to BYU sophomore sensation Kyle Collinsworth with less than 14 minutes to go Tuesday could impact some decisions, if not for making the Big Dance, the actual seeding.
Collinsworth just finished slamming home an alley-oop pass from Matt Carlino on a break when he landed awkwardly going for a rebound at the other end. On his back, he had his hands over his face and was in obvious pain. He left for the locker room but returned to the end of the bench with ice on his knee.
"It's being called a knee injury," said BYU coach Dave Rose. "He'll have an MRI (Wednesday) to determine what's happened."
Collinsworth is like gold for BYU. Versatile as a Leatherman pocket utility, he plays all five positions and rebounds like a banshee.
BYU finished its season on a 10-2 run to post a 23-11 overall record.
"The last couple of weeks, we've played as well as anybody in the area," said Rose. "I'm really proud of our guys and the season they've had because it's been difficult with a lot of games against really good teams that could have gone either way."
On Tuesday, the Cougars looked timid and forced things. Gonzaga came out like a well-oiled machine, and after jockeying with the No. 2-seeded BYU team to an early 8-8 tie, coach Mark Few's guys simply outplayed the Cougars. Gonzaga got easy shots, found open 3-point looks and played prison defense.
Gonzaga rained down field goals from inside and outside. Meanwhile, the Cougars got a few layins early, but then somebody put a plywood circle over the rim.
BYU, the league's top-scoring team, struggled to even dribble the ball, and had players running into one another, turning the ball over, losing dribbles on drives, and taking uncharacteristic shot attempts. Credit the 'Zag's close-quarter defense. Until the waning seconds of the first half when Collinsworth and Haws scored, BYU had made just seven field goals.
The Bulldogs raced to a 17-8 lead on the Cougars and BYU then watched it grow to 21.
Things looked more bleak when freshman center Eric Mika got his second and third personal fouls within 10 seconds in the second half. On his third personal, teammate Nate Austin went to the floor with a bloodied nose.
Nobody knew six minutes later that Collinsworth, the real tough-guy persona on this squad, would fall to a heap, possibly lost for the postseason.
This is where you have to give Few credit. The Gonzaga coach's team entered the arena claiming this was its house, backed by a decade and a half of making the finals. Utilizing talent, depth, size and athleticism, the 'Zags took it to the Cougars for most of this game.
And this is where you have to give BYU some due. The Cougars could have quit, but with Collinsworth out, Rose's team rallied and cut a 21-point deficit to eight points with several chances to make it seven or five.
"We battled back, decided to dedicate this to Kyle," said Haws. And they almost got it within range. But Gonzaga is the better team. The Bulldogs won the regular-season title by a two-game margin.
Where does that leave the Cougars in this affair?
Where they've usually been in conference tournaments — down, out and busted in Las Vegas.
It's an amazing script, one that the Cougars have followed since 2001, a drought of 13 years. Now, true, BYU hasn't always made it to the finals. But for more than a decade, they've won one here or there, then sputtered to the dismay of the faithful who followed them to Vegas.
We've seen this many times before.
Dick Harmon, Deseret News sports columnist, can be found on Twitter as Harmonwrites and can be contacted at [email protected].