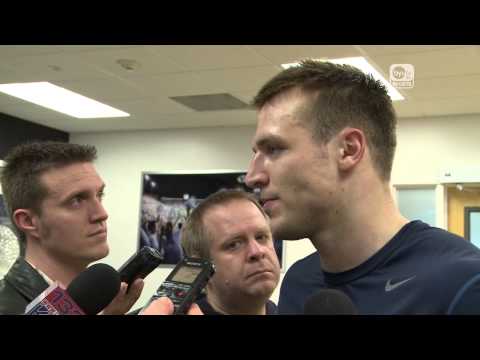 View 8 Items




He's not the athlete that Kyle (Van Noy) is, but he's a different type of athlete. We'll be able to do some different things with him that we weren't able to do with Kyle and some stuff we did with Kyle that we won't be able to do with Bronson.

—BYU outside linebackers coach Kelly Poppinga, on Bronson Kaufusi
PROVO — Bronson Kaufusi, with his athletic 6-foot-7 frame, looks every bit the part of a rush defensive end in a 4-3 defensive alignment.
The problem is he plays in BYU's 3-4 defense — a system that relies on big, stocky defensive end types for the most part in lieu of the more traditional ends found in 4-3 systems.
But is it really a problem?
Coaches, and Kaufusi himself, believe it's no problem at all if he can play to his strengths. Those strengths involve superb lateral movement for someone of his stature and very good bursts off the line of scrimmage.
BYU has been effectively employing players with that skill set at outside linebacker — specifically at the weak-side linebacker position — during the Bronco Mendenhall era.
For this reason, coaches made the decision to move Kaufusi from defensive end to outside linebacker right after the conclusion of the 2013 season.
The decision was a quick one, something that Kaufusi didn't fight against.
"I believe it's going to fit me a lot better," Kaufusi said. "I'm 6-7 and I don't weigh 300 pounds or 300 pounds plus ... so playing (outside linebacker) helps me play more off the edge and that's what I played in high school. So I like it a lot more because you're more aggressive."
Few linebackers in BYU history were more effective coming off the edge than Kyle Van Noy, who started at will linebacker in each of the last three seasons. Replacing everything Van Noy brought to the position isn't probable, but coaches aren't necessarily looking looking for Kaufusi to do the same things at the position.
"He's not the athlete that Kyle is, but he's a different type of athlete," said outside linebackers coach Kelly Poppinga. "We'll be able to do some different things with him that we weren't able to do with Kyle and some stuff we did with Kyle that we won't be able to do with Bronson."
Coaches are in the process of teaching Kaufusi his new position this spring and deciding how he'll most effectively be employed, but several things are apparent. Those things involve his ability to rush the quarterback and stop the run. Other aspects of his game need some work, however.
"It's the coverage part," Poppinga said when asked where Kaufusi needs the most work. "The run ... he'll be fine with. The pass rush stuff he'll be fine with. It's just the coverage. ... He's going to have to get that down and just learning the whole coverage of how it all works and where he fits. He has a long way to go that way."
Poppinga is confident Kaufusi will get over every learning curve involved and provide effective play throughout the coming season.
"He's making the transition well," Poppinga said. "I've been super impressed with him and he's going to be great off the edge. We knew that (watching) him the last two seasons that when he was really productive it was when he was coming off the edge."
Twitter: @BrandonCGurney