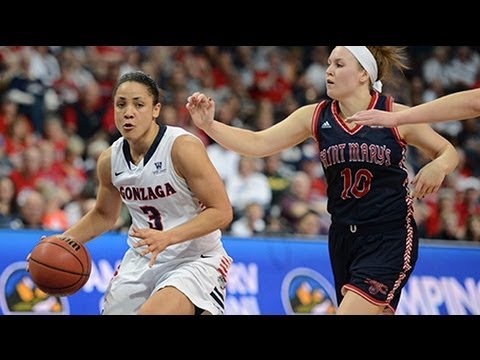 View 12 Items


LAS VEGAS — For the Cougar women, it was a matter of who got the call.
It turned out to be a point guard tag team.
Coach Jeff Judkins has the BYU women's team in prime position to earn a second WCC basketball tournament title on Tuesday after he watched his two point guards take over the semifinals in a convincing 77-64 win over Pacific Monday.
Starting point guard Kylie Maeda and backup Stephanie Rovetti combined for 22 crucial points in leading BYU to leads as high as 20 points in the victory over the Tigers.
"If you'd have told me before the game those two would combine for (22) points, I'd have said you were crazy," said Judkins.
For the 26-5 Cougar squad, the point guard production was a luxury because this is a team that features one of the premier post players in the country in 6-foot-7 WCC Player of the Year and Defensive Player of the Year Jennifer Hamson. But Hamson got in foul trouble early Monday, as did shooting guard Lexi Eaton, and Judkins needed help.
Maeda, one of the smallest players on the floor, made a series of big shots in the first half, including 3 of 4 from distance, part of her 12 points and three steals.
Rovetti added 10 points, but it was her defense that slowed down Pacific's wonder woman, Kiki Moore, at a critical juncture in the second half when the Tigers cut a huge 20-point BYU lead to just six at 51-45 with just less than 12 minutes left.
Rovetti took a pair of charges from Moore, who had scored eight straight and challenged the Cougars with her speed. Moore had just surpassed 2,000 career points when Rovetti stayed in front of her for the two charge calls. The two quick calls on Moore earned a technical from Pacific coach Lynne Roberts, who took the court in protest and refused to back down as the teams exchanged ends of the floor.
"We're really two different kinds of players," said Maeda, a 5-5 sophomore from Honolulu. "We really complement each other with our different styles and what we bring to the game."
After Rovetti drew the charges on Moore, the multitalented senior didn't score again in the game, a stretch of about nine minutes. She fouled out with 2:20 left in the game after a series of misses and three turnovers.
"She's more of a defender than I am," said Maeda of Rovetti and herself. "I'm more of a shooter and scorer."
Combined, the duo made 6 of 9 field goals, went 4 of 6 from beyond the arc, and were 6 of 8 from the free-throw line.
This one was a foul-fest from the start. Nearly every time down the court, somebody for Pacific or BYU got whistled for bumping, hacking, charging or blocking. By halftime, BYU had 12 fouls and Pacific 10, but there were fouls and then there were fouls.
Star Hamson picked up three fouls in the first 10 minutes and sat; some 90 second later, fellow star Eaton picked up her third personal with BYU up 29-11. Pacific then outscored BYU 9-1 in the final three minutes of the first half.
But Judkins' point guard duo did what super duos are supposed to do.
They stepped up.
Dick Harmon, Deseret News sports columnist, can be found on Twitter as Harmonwrites and can be contacted at dharmon@desnews.com.