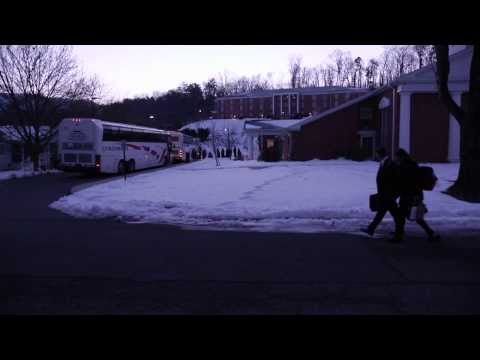 View 17 Items

Less than two weeks after being baptized a member of The Church of Jesus Christ of Latter-day Saints, Cody Byrd, who has served in the military for four years, had the opportunity to do what he described as "the most wonderful thing that I've ever been able to do" — attend the Washington D.C. Temple for the first time.
Byrd, a freshman at Southern Virginia University, was able to attend the temple recently along with nearly 200 of his fellow students and Southern Virginia faculty and staff on the university's eighth annual Service Day. The university canceled classes in conjunction with the local Buena Vista Young Single Adult Stake's temple trip to enable Southern Virginia students — more than 90 percent of whom are Mormon — to serve at the temple.
"It was amazing," he said. "It was very nice to be able to go up and have a whole day just focused on the temple. I was able to (be baptized for) a couple of my family members that have passed away."
In addition to serving inside the temple, many attendees also gathered in the Washington D.C. Temple Visitors' Center to help organize and store supplies, including the many Christmas lights that adorn the temple's grounds each winter.
"I enjoyed it very much," said Scott Dransfield, professor of English at Southern Virginia and bishop of Byrd's ward. "On the weekdays, there's not a whole lot going on so it felt like we had the temple to ourselves. It was just wonderful being there with colleagues, students and members of my ward. It brings us together, clarifies our priorities and I anticipate it will give us something to talk about and reflect on this Sunday when we meet together."
Dransfield said that he felt attending the temple so soon after being baptized was a "great opportunity" for Byrd.
"The day before we went (to the temple), I met with him and others to ordain him a priest and then right away issued him a (limited-use) temple recommend," he said. "He was very excited about itit, and I think his own enthusiasm and deep feelings are just confirmed in going to the temple right away and seeing it and feeling the peace and spirit that dwell in the temple."
Byrd began attending Southern Virginia last semester after becoming friends with several members of the LDS Church while deployed in Afghanistan.
"When I was in Afghanistan, I had a couple of LDS buddies who helped me through a lot of questions and pointed me this direction," Byrd said.
He is currently studying politics, history and business. After he graduates, he hopes to attend the Institute of World Politics and pursue a career in the military.
"I absolutely love (the military)," he said. "Now that I'm LDS, it gives me the opportunity to do what my friends did for me, to spread the gospel. We live as a group so we don't get to see civilian life like I do now ... so on top of doing the work that I love to do, I'll get to spread (the gospel) to the guys that I talk to."
Hannah Benson Rodriguez is the lead writer and editor in the communications office at Southern Virginia University. She received a bachelor's degree from Southern Virginia and currently resides in Buena Vista, Va. Her website is at hannahbr.com.