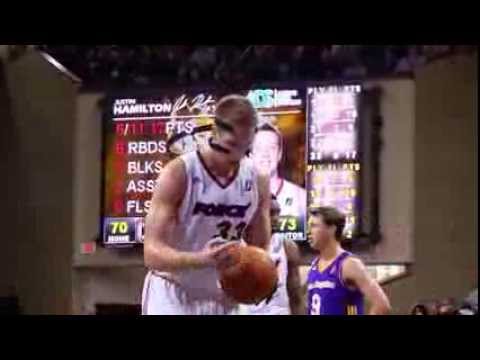 View 2 Items

I like to think of myself as an overall player. I can play defense, I can pass, shoot. I just want to do whatever I can to help this team win.

—Justin Hamilton, on signing with the Charlotte Bobcats
Saturday was a big day for Lone Peak High at numerous levels of basketball, including the NBA.
While the Knights were taking home their fourth consecutive 5A boys basketball title at the Huntsman Center, the BYU men's basketball team — with four former Lone Peak stars in Tyler Haws, Nate Austin, Eric Mika and Josh Sharp — took care of Loyola Marymount in the West Coast Conference quarterfinals in Las Vegas.
On the other side of the United States, another former Knight, center Justin Hamilton, also had a day to remember.
After signing a 10-day contract with the Charlotte Bobcats on March 4, he played just under four minutes and recorded a steal and a turnover in the Bobcats' 111-89 loss to the Memphis Grizzlies. While it was a rather nondescript outing, it was significant for Hamilton, as it was his NBA debut in a regular-season game.
Hamilton, an Alpine native, had previous experience playing in NBA arenas, logging minutes in five preseason games this year with the Miami Heat. During that five-game stretch, his best game came against the Detroit Pistons on Oct. 10, 2013, when he had eight points and four rebounds in nine minutes.
But after the Heat released him on Oct. 26, Hamilton made his way to the NBA Development League, where he's played 37 games for the Sioux Falls Skyforce this season and established himself as a D-League All-Star.
In his time with the Skyforce, Hamilton averaged 19.6 points, 9.2 rebounds, 2.0 blocks and 1.5 assists. And even though he's 7-foot, the second-year pro has shown his abilities as a 3-pointer shooter: for Sioux Falls, he hit 30-of-78 shots from beyond the arc, for 38.5 percent. He also led the D-League in offensive rebounding and recorded 16 double-doubles with the Skyforce.
"I just tried to take advantage of the D-League system to showcase my talents so I can get to here," Hamilton told bobcats.com after he signed with Charlotte.
Now, the former Knight who initially was selected by the Philadelphia 76ers in the second round of the 2012 NBA Draft is hoping to turn this short-term opportunity of playing in the NBA into a full-time gig.
"I like to think of myself as an overall player. I can play defense, I can pass, shoot. I just want to do whatever I can to help this team win," Hamilton said.
He joins another basketball face familiar to Utah, Al Jefferson, with the Bobcats. Jefferson, the former Jazzman, leads Charlotte with 21.2 points and 10.3 rebounds per game this season.
"He's a phenomenal player, so I'm just going to watch him and try to take what I can from him and use that in my game," Hamilton said of Jefferson.
Brian Kotloff of NBADLeague.com evaluated Hamilton's NBA prospects.
"He's been a classic solid-but-not-spectacular player," Kotloff wrote. "But his consistency is a reflection of his fundamentally sound game, which should make him a coach's favorite and a longtime contributor at the next level — whether in Charlotte or elsewhere."
The Bobcats, who currently sit in the seventh spot in the Eastern Conference playoff race, will play two more games before Hamilton's 10-day contract is up. On Monday, Charlotte hosts Denver. On Wednesday, the Bobcats play at Washington.
Email: [email protected]; Twitter: @brandonljudd