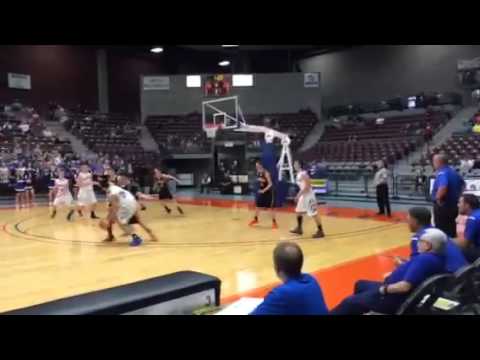 View 13 Items

No one really believed in us, except for us. Our coach always taught us that defense will win us games.

—Monticello senior Austin Maloy
RICHFIELD — It didn't matter to the boys wearing orange and black that most people didn't think they belonged in the state championship game.
The Monticello Buckaroos simply relied on the one thing that's carried them through disappointment and euphoria, not just this season, but most of their lives — each other.
"No one really believed in us, except for us," said senior Austin Maloy after the fourth-ranked Buckaroos upset the second-ranked Panguitch Bobcats 34-31 Saturday to win the school's first boys basketball state title in two decades. "Our coach always taught us that defense will win us games."
The 1A title game was a dramatic defensive struggle that could've been won by either team until the final buzzer sounded with the Buckaroos on top. Both players and coach said it was their faith in each other that carried them through the season's trying times and the tournament's tough games.
"I felt some pressure, but knowing our team, we came into this knowing that we could win this," said junior Sheldon Black, the Deseret News 1A All-Tournament MVP. "We really trusted in each other. If it wasn't for that trust, I don't know if we could have come out with a win."
Not only was it 20 years to the day since Monticello had last earned a boys basketball championship, but this group is the first squad to even earn a shot at playing for the title in all those years.
"We worked really hard, and all those guys (before us) worked really hard, but they haven't quite been able to get here," Black said. "We wanted to do it for everyone in the town of Monticello."
Many fans made the trip from Monticello to Richfield, and there were a lot of tears mixed in with the hugs and high-fives.
"A program represents a community-wide effort," said Bill Boyle, Region 19's representative on the Utah High School Activities Association's board of trustees. "These boys have grown up together. ... It's wonderful. It really represents good solid programs in our school."
The championship game was unusual for the low score, with both teams making it hard for the other to even get near the hoop.
"I don't know if either team tried to slow it down," said Panguitch coach Clint Barney. "It just looked like a defensive battle with both teams working really hard."
The Buckaroos' defensive plan was to make it as difficult as possible for Panguitch senior Tyce Barney to even touch the ball.
"We came out in this whole tournament and played great defense, especially against Barney," said Maloy. "He's a great player and we held him to … low scoring."
Barney finished with nine points and eight rebounds, and was the key to what the Bobcats were able to accomplish. Senior Keldon Norris was the other key, and he finished with a team-high 13 points. Freshman Trey Barney added seven points and seven rebounds.
"I think we got beat by the better team today," said Coach Barney, father of both Tyce and Trey. "I'm not going to say we didn't' play well or that we didn't play hard. ... It will take a few weeks for this to heal, but we'll feel good about what we've accomplished when it's all said and done."
As it played out, the final few seconds were a flurry of effort and heroics. Norris' putback with five minutes left in the quarter gave Panguitch its first lead of the game, 26-25.
While the teams traded thrilling 3-point shots, it came down to free throws and Maloy made the final two to secure the victory.
"He's a gamer," Monticello coach Tony Esplin said of Maloy, who finished with seven points, six rebounds and three steals. "He is a calming influence for them. He leads by example, and he's just an all-around great kid."
Esplin said the game plan was pretty simple because the Buckaroos felt like the bulk of the pressure was on Panguitch.
"Our goal was to relax and have fun," Esplin said as he held the state championship trophy. "Nobody expected us to be here. I told them to go out and relax and have fun. And smile. They had a hard time smiling a few times, especially when I don't smile. But they did it. They worked hard, dreamed about it for a long time, and I'm so proud of all of them. They're a great group of kids."
Twitter: adonsports EMAIL: [email protected]