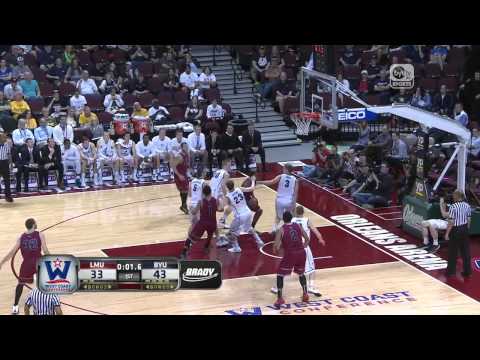 View 40 Items




He's just a terrific player. The seven games that we played, he's been a guy that's just been a handful.

—BYU coach Dave Rose, on Loyola Marymount's Anthony Ireland
LAS VEGAS — As Loyola Marymount's Anthony Ireland walked off the court and to the bench in the waning moments Saturday afternoon at Orleans Arena, BYU coaches, players and fans applauded the senior point guard.
Ireland scored 19 points in his final collegiate game, an 85-74 setback to the Cougars in the West Coast Conference tournament quarterfinals.
BYU fans chanted his name. Rose stood and clapped for Ireland as a show of respect.
"He's just a terrific player. The seven games that we played, he's been a guy that's just been a handful," Rose said. "He's so good with the ball. He plays with so much confidence and he makes the other four players on the floor better. As a staff, we really respect his game. It's always sad when any player ends his career. … It's been a pleasure to watch him except for the times we played him. He's one of the best WCC players ever."
The 5-foot-9, 175-pound Ireland, a native of Waterbury, Conn., appreciated the kind gesture from BYU fans.
"I did hear the fans yelling my name, cheering for me, and it was just a beautiful feeling," Ireland said. "I congratulate them for doing that for me."
It's hard for Ireland to comprehend that his career is over.
"I kind of figured it would come eventually," he said. "But I never thought the day would come for me."
Ireland is the only player in LMU history with at least 2,000 career points, 500 career rebounds, 500 career assists and 150 career steals.
Certainly, LMU coach Max Good will miss Ireland.
"He's got so much respect throughout our league. The officials waited for him after the game," Good said. "He's a grinder and a tough little sucker. But the big thing is, you don't see him beating his chest or doing all that outrageous stuff some kids do today … that frankly makes me sick to watch. He has none of that in him.
"He just plays basketball. He works at basketball. … He's very confident, but he's not arrogant. He has humility and he respects the game. … He respects everybody and he gets respect in return."
HAWS AND HAWS: While BYU was playing LMU, Lone Peak High won its fourth consecutive state high school basketball championship at the Huntsman Center.
Cougar guard Tyler Haws heard the final score and was happy for his younger brother, TJ, who led the Knights to an 84-66 victory over Pleasant Grove.
Tyler Haws won two state titles, and now TJ, who will enroll at BYU after an LDS mission, boasts four.
2
comments on this story
"I'm sure he's going to rub it in a little bit," Tyler said of TJ "But I'm so happy for my brother. He's had an incredible career at Lone Peak. To win four state championships is pretty special."
TJ scored 29 points, including a career-high eight 3-pointers, Saturday.
NOTES: Tyler Haws has passed Michael Smith for seventh-most points in a season at BYU … Haws now 45 consecutive games in double figures, breaking a tie with Jeff Chatman and Russell Larson. He now owns fourth-longest streak in BYU history. … Former BYU and Olympic distance runner, and current Cougar coach Ed Eyestone, was inducted into the West Coast Conference Hall of Honor at halftime.