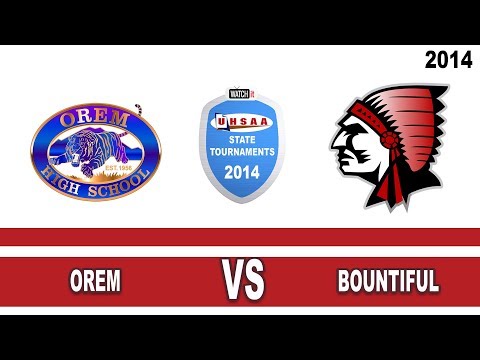 View 20 Items

It was a real turning point for us. We were thinking 'this is horrible' and that chemistry came together right then — that resolve that we're never, ever, ever, going to let this happen again.

—Bountiful coach Mike Maxwell, on the Braves' early season loss to El Camino (Calif.)
SALT LAKE CITY — 4A tournament MVP Sam Merrill simply wasn't going to have it again. Not this time. Not ever again.
With Orem climbing all the way back to take a 43-42 lead with 50 seconds remaining, Merrill received the ball at mid court, put his head down, drove all the way to the bucket to take back the lead almost the instant it was taken away. The senior guard was bumped by the defender, but maintained enough poise to score the difficult driving shot to put the Braves back up 44-43, which proved to be the final score.
"He was just like 'get out of my way. I'm going to get this right now,'" Braves coach Mike Maxwell said. "He did it without hesitation. A lot of guys would be like 'let's take the ball out and work it', but not Sam. He just went and made it happen right (then.)"
It's the type of drive Merrill, and Maxwell's team, developed after being on the losing end of similarly tight games — two games in particular.
An overtime loss to Sky View in last year's semifinals and then a loss to El Camino (Calif.) in the Jerry Tarkanian Classic in December — Bountiful's lone loss this season — helped galvanize the resolve to never take a backseat again.
Maxwell describes an overwhelming, and even unbearable feeling developing within his team following the loss to El Camino. With nowhere to go that day until the next game, the team just sat around the hotel stewing about it.
"It was a real turning point for us," Maxwell says. "We were thinking 'this is horrible' and that chemistry came together right then — that resolve that we're never, ever, ever, going to let this happen again."
The Braves didn't let it happen again and ended the season with 22 straight wins while learning they could play with just about anyone.
"From that point on we went on a run where we were beating teams by 20 and 30 points before the state tournament," Maxwell said. "And it was because of that loss and sitting around looking at each other and (deciding) it's no fun to lose. It's probably the best thing that ever happened to us even though I hate losing."
Comment on this story
Taking the loss in Las Vegas particularly hard was Merrill, who is the team's unquestioned leader.
"He hates losing more than he loves winning," said Bountiful big man Jeff Pollard. "None of us like to lose, but I think Sam especially takes it hard on himself whenever it happens. He has so much drive and so much heart that he just can't stand it."
"He internalizes it the worst," Maxwell added. "The kid is just a warrior who wants to win so bad. He found a way tonight, and I'm proud of him."
Email: bgurney@desnews.com
Twitter: @BrandonCGurney