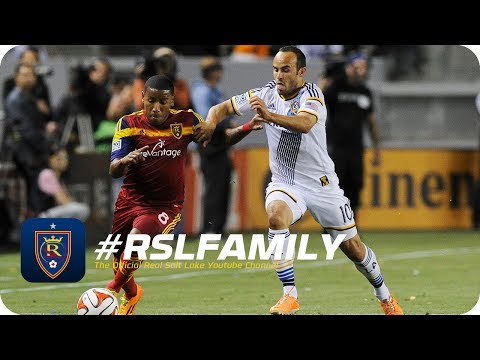 View 10 Items


I knew he likes to stutter step. I know he likes to look up and see where the goalkeeper goes. I just stood my ground and waited as long as I could.

—Nick Rimando
CARSON, Calif. — With seconds left to play, goalkeeper Nick Rimando needed to do only one thing to preserve Real Salt Lake's meager lead Saturday night: Foil one of Major League Soccer's leading scorers on a penalty kick.
But Rimando accomplished that feat against the Los Angeles Galaxy's Robbie Keane, and RSL escaped the StubHub Center with a 1-0 win as both teams opened the MLS season in front of 25,634.
"It's tough to get a result, let alone a shutout, here," Rimando said. "It's a big field and they came at us. They have very dynamic players who like to get the ball and run at you."
Rimando, a candidate for a berth on the United States' World Cup team, finished with nine saves for his first shutout of the season and the 109th of his career. The veteran needs four more shutouts to surpass Kevin Hartman as the league's career leader.
Joao Plata scored RSL's goal in the 80th minute. Kyle Beckerman sent a left-footed pass to Plata, who beat defender A.J. De La Garza and converted from 13 yards inside the left post.
"Joao's not the biggest but he's an active player," Rimando said. "We focused on getting our forwards moving a lot for us and creating space for themselves."
Then in stoppage time, Rimando had to face Keane after Tony Beltran fouled a leaping Rob Friend from behind in the penalty area.
Keane — the Irish national team's all-time leading scorer who amassed 16 for the Galaxy last year — took one step, then paused briefly before striking the ball. Rimando dived to his right to deflect the shot past the post.
"I knew he likes to stutter step," Rimando said of Keane. "I know he likes to look up and see where the goalkeeper goes. I just stood my ground and waited as long as I could."
Rimando also displayed his agility in the first half. In the seventh minute, Rimando dived in front of the post and used his right hand to deflect Landon Donovan's 13-yard shot.
In the 12th minute, Rimando dived to his left to tip Keane's 12-yard shot, then defender Aaron Maund beat the Galaxy's Samuel to the ball and cleared it across the end line.
In the 38th minute, Rimando again thwarted Donovan by diving to his left to block a 7-yard shot. But four minutes earlier, the veteran goalkeeper survived a near-critical error.
Donovan intercepted Rimando's low clearance and headed the ball to Keane, who fired an 11-yard shot that hit the top of the right post.
"It was a typical game between L.A. and Salt Lake," Beckerman said. "It goes back and forth, back and forth. The team that can finish before the other usually wins."
RSL's Jeff Cassar earned his first victory as a head coach in his first game.
Three substitutes officiated the game because MLS's regular referees have been locked out in a labor dispute. Serving as referee was Javier Santos, a FIFA-accredited official from Puerto Rico.
Working one line was Jairo Morales, another Puerto Rican with FIFA accreditation. Jose Da Silva, a referee from the North American Soccer League, served as the other linesman.