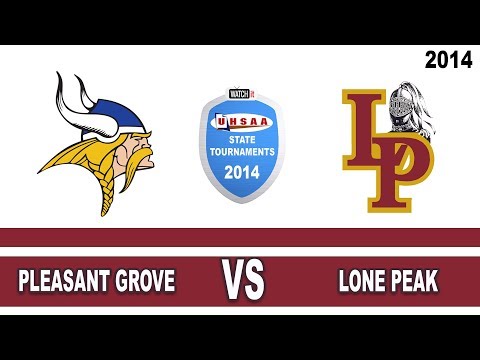 View 23 Items
Buy photos

He's as good or better than any player that's ever played this game.

—Lone Peak coach Quincy Lewis, on TJ Haws
SALT LAKE CITY — Honestly, did anyone expect anything else?
With a chance to put Lone Peak into the record books as the only four-time champ in state history, did anybody really think TJ Haws wasn't going to do his thing? After all, this is a guy who scored a school-record 42 points in the 5A quarterfinals and is one of the best scorers in state history.
"He's as good or better than any player that's ever played this game," said Lone Peak coach Quincy Lewis.
Haws proved it one last time Saturday night at the Huntsman Center. He drained a career-high eight 3-pointers and scored 29 points as Lone Peak crushed Pleasant Grove 84-66 to capture a fourth-straight 5A state championship.
The Knights led by 29 points at one point late in the third quarter as they drained 3-pointer after 3-pointer in an onslaught Pleasant Grove had no answer for.
"It's just the greatest feeling in the world. I'm so blessed to be a part of this program. We made history," said Haws, who finished with 1,896 career points.
Zach Frampton added a career-high 24 points to go along with 10 rebounds, and his 18-point second quarter was realistically the back-breaker for the Vikings.
When Pleasant Grove beat Lone Peak 78-72 back on Feb. 14, the Vikings were in a sizable hole early but rallied for the surprise victory.
During a timeout with Lone Peak leading 30-20 on Saturday, Lewis challenged his team to avoid a repeat of that earlier loss.
"I told our guys, 'If we get these guys down again like we did at their place early in the year, we're not letting them out. And now is when we have to make our push. We've got to get up 15 instead of going down to six," said Lewis.
Frampton responded and played the best basketball of his life over the next four minutes. The senior made four 3-pointers and scored 18 points in the second quarter alone to push Lone Peak to the 47-29 halftime lead.
"We don't expect him to have 21 points in the first half, but it's not surprising to see him have this kind of a game based on what his experience is," said Lewis.
Lone Peak's coach was just as impressed with how his team defended the Vikings in the first half.
"That's an excellent team and they're a very good offensive team, and we just felt like we could not allow (Matt) Conway to get dump-off passes from the guards," said Lewis. "So for the first time all season we told our big guys, 'No help.'"
Conway, Pleasant Grove's leading scorer, only had six points at the half and 16 for the game.
Knowing Pleasant Grove's penchant for being a strong second-half team, Lone Peak didn't let up after halftime. Haws made four 3-pointers in the third and Jantzen Allphin added two more as the Knights extended the lead to 74-52 heading into the fourth.
"Haws would not lose in that second half. We got them down and then boy the shots he was hitting, you could tell he smelled blood," said Lewis. "Honestly, that's what greatness is all about in that second half."
Haws admitted afterward that he came into the game with a chip on his shoulder after losing to Pleasant Grove last month. That translated into a staggering 14-of-30 shooting performance from 3-point range by his team.
Prior to Saturday's victory, Lone Peak was in an elite club of three-time state champs along with Jordan (1953-1955), Gunnison (1972-2974) and Lehi (1996-1998). Now it's in a club all by itself with four straight titles, including seven of the last nine.
Deseret News 5A All-Tournament Team
MVP: TJ Haws, Lone Peak
Matt Conway, Pleasant Grove
Frank Jackson, Lone Peak
Tyler Rawson, American Fork
Elijah Kletzli, Davis
Riley Court, Pleasant Grove