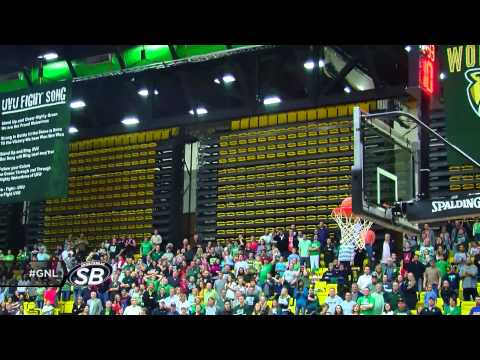 View 3 Items

Utah Valley University withstood Bakersfield's second half surge to earn a 64-55 win at the UCCU Center on Friday night, clinching the WAC regular season title outright in its first season in the league. UVU now etches its name onto an elite list of past champions in the conference's long, storied basketball history and secures the 28th WAC championship for an institution from the state of Utah.
After leading by as many as 16 early in the second half, UVU found itself trailing by six late in the period after the `Runners (12-18, 5-11 WAC) pieced together a huge 24-2 run. But the Wolverines (19-10, 13-3 WAC) chipped away at the deficit, getting a huge boost from a 78 percent mark from the free-throw line. Utah Valley went 25-32 at the charity stripe, outscoring CSUB by 18 at the line.
"What can you say about this team?" UVU head coach Dick Hunsaker said following his team's historic victory. "This team has fight and a terrific inner spirit to compete and it really showed up tonight. Tip your hat to Bakersfield as well for their effort. They could have given up but made a wonderful comeback."
Holton Hunsaker hit 13 of those 18 freebies, going 9-of-10 in the second half alone. He led the Wolverines with 16 points.
Joining Hunsaker in double figures was Mitch Bruneel with 14 points and Ben Aird with 13. Aird completed the double-double with 10 rebounds and also blocked a game-high three shots on the night.
Bruneel scored 10 in the second half, seven of which came during a decisive spurt with fewer than three minutes to go. Trailing 50-49, Bruneel knocked down a big 3-pointer from the right wing to restore the late advantage to the Wolverines. After a UVU defensive stop Bruneel struck again, ducking inside for two more to put UVU ahead two possessions. He capped what became a 9-0 run with a breakaway slam with 28 seconds left. The bucket put Utah Valley ahead 58-50 and effectively sealed the win for the home team.
The Wolverines' outright WAC championship comes in just their first season in the conference and gives them the No. 1 seed heading into next week's WAC Tournament in Las Vegas. UVU finishes one game ahead of second-place New Mexico State in the final standings.
Bakersfield was led by 18 points from guard Issiah Grayson who had a productive hand in the `Runners second-half surge. Facing its largest deficit of the game at 16, Grayson buried a 3-pointer that kicked off the rally that saw the visitors take a 45-36 lead on the scoreboard. The Wolverines went through a 0-of-11 dry spell during the 10-minute run, suddenly facing their largest deficit of the contest before battling back over the closing minutes.
UVU suffered a similar drought during the first half when it opened 2-of-11 from the field. But Utah Valley found its rhythm to close the half, going 7-for-13 over the last 13 minutes to take a 33-21 lead into the locker room. Using a balanced scoring attack, the Wolverines saw seven players enter the scoring column as they closed the half on a 15-6 run.
Its top seed assured, UVU will have to wait until Saturday to learn its first round opponent at the tournament. CSUB, Seattle U and Texas-Pan American could each fall into the eight-seed depending on Saturday's results.
Friday was also Senior Night at the UCCU Center as seniors Aird, Taylor Brown, Keawe Enos and Hunsaker were honored in a postgame ceremony.
"Tonight was a special night for many reasons, but maybe none more so than that we were able to secure a championship for our four special seniors in front of their friends and family," Hunsaker said. "Their influence will be felt in every corner of this program for years to come."
Utah Valley will open the WAC Tournament next Thursday at the Orleans Arena in Las Vegas at 1 p.m. MT.
Kellen Hiser is an assistant sports information director at Utah Valley University. For more information on Wolverine athletics, visit WolverineGreen.com.