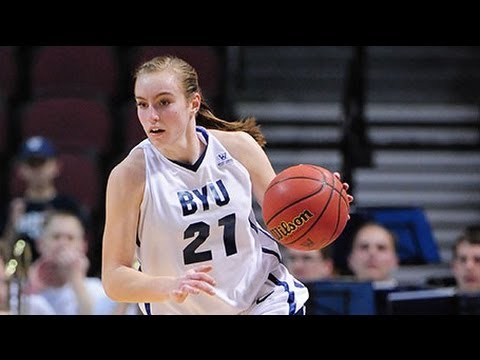 View 32 Items



LAS VEGAS — As far as Pepperdine women's basketball coach Ryan Weisenberg is concerned, BYU is the team to beat in the West Coast Conference tournament.
Maybe that's based on what he saw in the Cougars' 77-51 shellacking of the Waves Friday afternoon in the tournament quarterfinals.
"That's a heck of a team. They're very well-coached. … We went into a gun fight with a knife. That never works," Weisenberg said. "My hat's off to BYU and I'm expecting them to win the whole thing now."
No. 2 seed BYU faces No. 3 seed Pacific Monday (1 p.m. MST, BYUtv) in the WCC semifinals. The Tigers downed Portland Friday, 84-72.
The Cougars (25-5) limited No. 10 Pepperdine to 26 percent shooting (18 of 69) from the floor, outrebounded the Waves 57-30, and never trailed.
BYU benefited from a balanced effort. Four Cougars scored in double figures, as Morgan Bailey and Lexi Eaton each scored a game-high 17 points. Jennifer Hamson, the WCC Player of the Year, scored 13 points and had 12 rebounds, and Kim Beeston added 10 points and seven assists. Ashley Garfield collected a game-high 13 rebounds.
"This team is really the word 'team.' That's what they are," said BYU coach Jeff Judkins. "They don't care who gets the glory. They just go out and play together. … I'm proud of them."
Hamson found herself in early foul trouble, but Bailey picked up the inside scoring slack while Hamson was on the bench.
"When Jen gets in foul trouble, Morgan takes it upon herself — and I think Lexi does, too — knowing they may need to look to score a little bit more and be more aggressive," Judkins said. "Morgan did that today. Jen went out and we got the ball to (Bailey) and she scored when we needed it."
Eaton, a sophomore, helped lead the Cougars to the WCC tournament title two years ago. Last season, she couldn't play in the tournament due to a knee injury.
"Last year, I just felt like my hands were tied down," Eaton said. "It feels awesome to go out there and play with my team. Today, we made a good statement for ourselves. We played really well defensively. When we play well defensively as a team, and we score whenever we want, we're a hard team to stop."
Bailey and Eaton helped the Cougars get off to a strong start, as BYU took an early 17-5 lead. The Cougars went into the locker room at intermission with a 42-22 advantage after a 3-pointer by Beeston at the end of the half.
"We had a lot of legs early, and I think that wore them down," Judkins said.
Pepperdine (6-25) expended a lot of energy Thursday in its win over Santa Clara to advance to the quarterfinals.
The Waves scored the first five points of the second half to pull to within 13, but the Cougars responded with a 16-2 run to make it 58-31. BYU led by as many as 34 with six minutes remaining in the game.
Still, for the Cougars, it was far from a perfect performance against Pepperdine, which won just one conference game during the regular season.
BYU had a glaring 21 turnovers, and Wave guard Ea Shoushtari came up with a WCC tournament-record eight steals to go along with her 11 points.
"We always set a goal to keep the turnovers down, under 12 usually," Eaton said. "I think we had a few turnovers in the second half that let them get some shots early in the second half. That's something we definitely have to cut down on because if it's a different team, they might come back. It might be a closer game. It's really the little things that will make a big difference in this tournament."