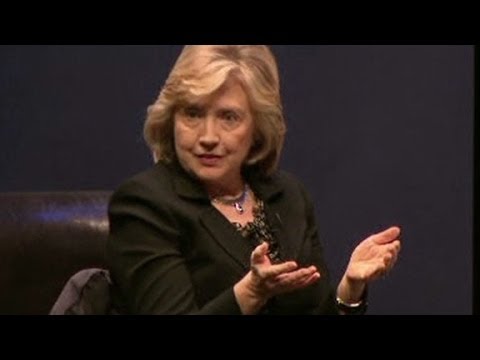 View 2 Items

Hillary Clinton, hardly a reasonable facsimile of a student of history, set the teeth of scholars on edge this week with her comparison of Vladimir Putin to Herr Schickelgruber.

—The Washington Times' Wesley Pruden
On Tuesday, former first lady and former Secretary of State Hilary Clinton likened Russian President Vladimir Putin's incursion into the Crimea Peninsula of Ukraine to Nazi dictator Adolf Hitler's relocating of Germans living outside of Germany in the 1930s, as reported by the National Review's Josh Encinias.
"Now if this sounds familiar, it's what Hitler did back in the '30s," Clinton said, referring to Hitler's resettling ethnic Germans who were living in places outside of Germany. "Hitler kept saying they're not being treated right. 'I must go and protect my people,' and that's what's gotten everybody so nervous."
Was Clinton right to compare Putin to Hitler?
Historian and columnist for the Daily Telegraph Timothy Stanley says no.
Writing for CNN, Stanley said that, yes, Putin's justification for intervention in Ukraine is similar to what Hitler did, but the situation is much more complex than general comparisons.
"After all, in the eyes of many ethnic Russians, it is the Ukrainian nationalists — not Putin — who are the Nazis," writes Stanley. "The Russians have asserted, quite accurately, that the revolution that overthrew a pro-Russian, democratically elected leader has resulted in the elevation of Russophobe fascists into key government positions."
Stanley goes on to point out that Hitler worked off a wide and inclusive racist ideology, while Putin is "simply" meddling in the affairs of ex-Soviet countries.
Comparing Putin to Hitler illustrates Clinton's shaky understanding of history, according to the Washington Times' Wesley Pruden.
"Hillary Clinton, hardly a reasonable facsimile of a student of history, set the teeth of scholars on edge this week with her comparison of Vladimir Putin to Herr Schickelgruber," Pruden writes. "Vladimir Putin, like Josef Stalin and Nikita Khrushchev before him, invites dark comparisons," but Putin is hardly the man who committed genocide across a continent.
However, some on the right like Sen. John McCain and Sen. Lindsay Graham are agreeing with Clinton.
According to Pruden, McCain was pleased with Clinton's comparison and agrees that Putin's illegal actions in Ukraine are "the same thing that Hitler did prior to World War II."
In the hailstorm of reactions to her comments, Clinton defended and double downed on her comparison of Putin to Hitler. You can watch it on the left.
Erik Raymond is experienced in national and international politics. He relocated from the Middle East where he was working on his second novel. He produces content for DeseretNews.com. You can reach him at:
@RaymondErik