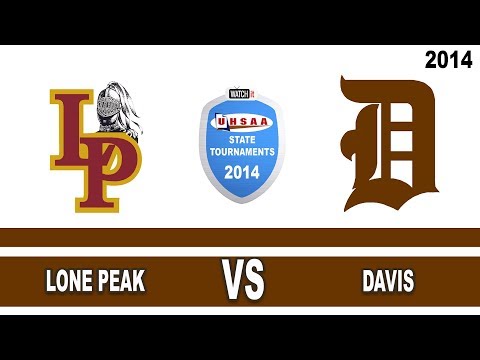 View 14 Items


That was a high-level game. Davis is an excellent team and we feel fortunate to win that game for sure. We're very happy to be in the championship

—Quincy Lewis, Lone Peak coach
SALT LAKE CITY — A year removed from a historic national championship run, the Lone Peak Knights are still chasing history. This time, the historic landmark they're after is a state-record four straight state championships — a goal well within reach after a tightly contested 72-63 5A semifinal win over Davis Friday night at the Huntsman Center.
Lone Peak star TJ Haws again led the way with a game-high 25 points — doing his best work again down the stretch when things started looking a bit ominous for the three-time defending state champions.
The Knights were seemingly poised to put the game on cruise control — leading 59-50 with a little more than five minutes remaining — when the Darts sprung to life. A couple of 3-point baskets from Jesse Wade and Abel Porter highlighted a 10-0 run as Davis retook the lead with just less than four minutes remaining.
As if to add salt in the wound, Zach Frampton, Lone Peak's do-everything starting senior, fouled out at the end of the run with 3:48 left in the game.
Lone Peak coach Quincy Lewis called a timeout after Frampton's foul and delivered a simple message.
"We just needed to keep our cool," Lewis said. "We needed to change things up just a little bit at that point. ... They had kind of figured us out there, I thought. We just tried to change the tempo and the makeup of the game and TJ got loose there in the last three minutes and we win."
Frank Jackson started the scoring out of the timeout with a driving bucket before Haws ripped off six straight to re-establish order in the form of a 67-60 lead with 1:51 left.
It's the type of late-game run Haws has provided time and again, but he didn't do it alone.
The Knights received key contributions from lesser-known players — particularly from forward Jantzen Allphin, who finished with 12 points, four of which came late.
"(Haws) is so capable and I felt a big key to the game is when Allphin hit some 3s and all the sudden that weak side defender doesn't want to come and help out on TJ that much anymore," Lewis said. "He gave him just enough room to get loose right there and it's just a team game. You need every guy."
Davis never recovered from Lone Peak's 8-0 barrage out of the timeout as the Knights walked away with yet another 5A state championship berth.
The Darts held their own throughout and were led by Elijah Kletzli and his team-high 23 points. Porter added 14. Lone Peak's Jackson contributed 20 while Frampton added nine points, eight rebounds and four assists.
Despite having been there many times before, Lewis was very grateful for this particular win.
5
comments on this story
"That was a high-level game. Davis is an excellent team and we feel fortunate to win that game for sure. We're very happy to be in the championship," Lewis said.
Haws certainly agreed with his coach and is intent on making history yet again for the Knights.
"We're aware of that," Haws answered when asked of the possibility of setting another state record with four straight championships. "Last year we were chasing history winning a national championship and this year we're chasing history as well."
Lone Peak will take on Pleasant Grove for the 5A state championship Saturday at 4 p.m. at the Huntsman Center.
Email: bgurney@desnews.com
Twitter: @BrandonCGurney