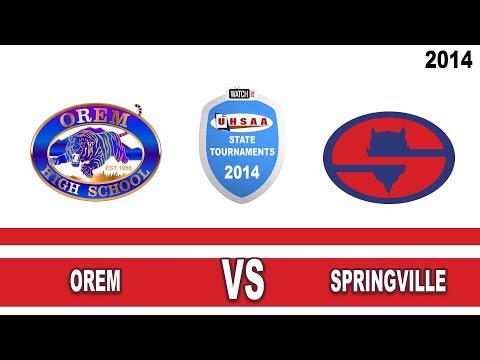 View 13 Items


SALT LAKE CITY — For the second time in three years, the Orem Tigers have reached the state championship game of the 4A boys state basketball tournament.
And, fresh from Friday's 61-46 victory over Springville in an all-Utah County semifinal, Orem coach Golden Holt would like nothing better than to knock off powerful pre-tournament favorite Bountiful (25-1) in Saturday's tourney title game at the University of Utah's Huntsman Center.
"If we won it tomorrow," he said Friday, "I might do a Jimmy Valvano and run around the court and just say, 'I'm done — it's been a nice run.'"
The Tigers (18-8) got strong performances Friday from senior point guard Quinn Peters, junior center Richard Harward and senior swingman Cooper Holt to keep this year's strong postseason run going.
And, in the process, they gave their head coach an opportunity to do his best impression of Valvano, the late, great former North Carolina State coach who's fondly remembered for running around the court looking for somebody to hug after his team won the NCAA championship in dramatic, last-gasp fashion in 1983.
"It's been a lot of fun for me and the boys for the last four years," the Orem coach said. "This team has won 70 games in the last four years, so it's been quite a journey. ... It's been a real treat for me.
"My son's a senior and he's heading off on a mission in a couple of months. So with Quinn and Dalton (Nixon) and the other boys, it's really a nice pot at the end of the rainbow. Hopefully, we can get it done."
They got it done Friday with some superb second-half shooting (66.7 percent) that allowed them to build on a 25-17 halftime lead and pull away after Springville pulled within three points, 33-30, late in the third quarter.
Peters led the way with 20 points, six rebounds and six assists, while the 6-foot-9 Harward had 15 points and nine rebounds. Cooper Holt, the coach's son, added 14 points and six rebounds, with Nixon, a senior forward, contributing seven points and seven boards and senior guard Ethan Chatterly chipping in with five points and seven rebounds of his own.
"I just take whatever the defense gives me," said Peters, who's not normally counted upon to take on so much of the scoring load. "If that means I'm just gonna get my teammates open shots, that's what I'll do. I'll just do whatever it takes to win.
"I just saw more opportunities today, just to attack the basket and get to the rim and finish. ... Richard and Dalton have been beasts all year. Richard's lost a lot of weight, so he's been more versatile and helping us out a lot the second half of the season.
"We're so excited," Peters said of Saturday's championship showdown. "It's good to be back."
Coach Holt said Peters' performance on the big Huntsman Center stage didn't surprise him one bit.
"Quinn really, I thought, dictated the whole game," he said. "When the ball's in Quinn's hands, we're pretty good because he is just so strong with the ball in his hands. Posting him up's a weapon, penetrating and dishing is a weapon, so Quinn's a strong, strong ballhandler.
"We just don't ask Quinn to shoot a lot, plus he wants to pass first, so the stats, you know, everybody wants to look at 17, 18, 20 points here or there, but Quinn's (shooting) percentages are off the charts from the field. You can see he shoots the 3 when he's sitting there, but he doesn't have to do it.
"I just don't know of another guard — I mean, (Lone Peak star) TJ Haws is in rarefied air; I coached TJ and I love that boy, but he's not really a point — but I don't know another point in the state that's so strong with the ball in his hands getting to the rim than Quinn Peters. And that's what I think makes him pretty special," Coach Holt said.
For Springville (14-10), Max Schreiner scored 13 points despite 5-of-20 shooting and he also had nine rebounds and three steals. Kayden Hillstead added 11 points, and Rhett Chark and Max Terry scored nine points apiece for the Red Devils.
But they shot just 32 percent from the field in the second half, were outscored 17-4 from the foul line in the game, and got outrebounded 36-28, helping Orem score 36 points in the paint.
"We looked pretty sluggish out there, as did both teams," the Orem coach said. "I think that third game (in the tournament) kinda showed on our legs today. Dalton Nixon has carried this team all season, and today he was just dead ... tired.
"So I thought Coop and Quinn stepped up and kinda carried the load. Richard Harward got his around the rim to help finish the game, and Ethan Chatterly did his part," he said. "So the other four guys helped Dalton today. I think they stepped up today and that's a tribute to their toughness."
EMAIL: rhollis@desnews.com