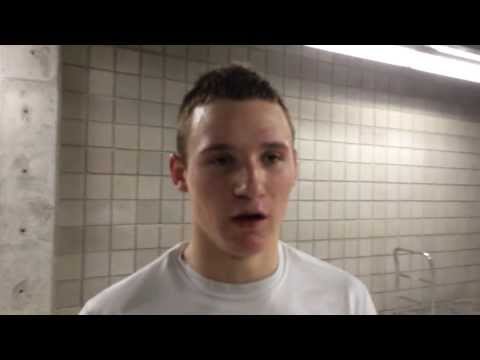 I just called out his name, and luckily he heard me. He passed it out to me, and I made the shot.

—Monticello guard Dillon Maughan, on making the game-winning shot after receiving a pass from Austin Maloy
RICHFIELD — Monticello guard Dillon Maughan was fine being the second choice.
But as he watched his teammate, Austin Maloy, drive the lane for what was the coach's first option on the game-deciding play, he saw an opportunity.
"I just called out his name, and luckily he heard me," said Maughan after fourth-ranked Monticello defeated third-ranked Piute 45-43 in Thursday's 1A quarterfinals at the Sevier Valley Center. "He passed it out to me, and I made the shot."
The senior sank a 3-point shot to secure a semifinal berth for the Buckaroos, who will face fifth-ranked Duchesne at 7:30 p.m. Friday.
"Their defense was outstanding," said Maughan, who shook his head when he considered what he and his teammates had accomplished. "I wasn't sure it was going in. The release felt good. ... It's the shot every high school kid dreams of making."
Maughan actually made four 3-pointers in the game, but the last one came with 1.2 seconds remaining in a contest that appeared to be headed to overtime.
"I'm pretty comfortable shooing 3-pointers," he said. "That kind of shot comes from confidence."
He said some of that confidence results from the faith his teammates have in him and the affection they share for each other.
"I love my teammates," he said. "It's such a blessing to play with them; they're so uplifting every day. They always have a good, positive energy, and that's great to be around."
Monticello coach Tony Esplin said that while he hoped Maloy would score on a layup, he had complete confidence in Maloy's decision to pass the ball to Maughan.
"It's just good to see them succeed," he said.
Piute struggled to score in the first quarter, but then the T-Birds stepped up their defense while finding some offensive rhythm to trail by four at halftime. The third and fourth quarters were almost completely even with the teams trading points and earning almost identical rebound numbers — 30 for Piute and 28 for Monticello.
"They're tough," Esplin said of the T-Birds. "They're a solid group of kids and you can never count them out. We knew they were good. We talked about it and said, 'We can worry about them, or we can do what we do.'"
The Buckaroos' rule on defense this season has been to "bend but don't break."
"We had quite a few bends," Esplin said, smiling.
The T-Birds were led by Matthew Millett, who scored 11 points and grabbed six rebounds, and Cole Payton, who scored 10 points and grabbed seven rebounds.
The Buckaroos' Tanner Eardley added 14 points and five rebounds.
The final minutes were a flurry of effort for both squads peppered with timeouts and big plays. During the final timeout, Esplin said he just reminded them of things they wanted to do.
While Monticello takes on Duchesne in the 7:30 p.m. game, top-ranked Rich will face second-ranked Panguitch in the 6 p.m. game.
The other quarterfinal games:
Panguitch 65, Green River 58: The second-ranked Bobcats escaped an upset thanks to clutch play from Tyce Barney and near-perfect free-throw shooting from Keldon Norris down the stretch. Barney finished with 30 points and seven rebounds, while Norris added 10 points and went 8 of 9 in a game where most of his teammates struggled at the line.
"We're normally better than that," said coach Clint Barney. "27 of 45, that's not going to cut it."
He said the players relied on their experience together in big games to pull off the win.
"They really enjoy each other, and they have confidence in each other," he said. He also credited some big defensive plays near the end for helping swing momentum in the Bobcats' favor. No play was bigger than Tyce Barney's 3-point shot with 1:29 to play.
"That was a big shot," Coach Barney said of his oldest son's play. "That was a big momentum boost for us. ... I'm happy for him. He's had a great career."
In fact, if Tyce Barney can score 38 points in his next two games, he'll reach 2,000 points in his four-year career.
Duchesne 75, Wendover 52: The Eagles relied on their depth to pull out the win. Blake Jones, Braxton Spencer and Daniel Hanberg all scored double digits. Jones scored 14 points and grabbed six rebounds, while earning three blocks and three steals. Spencer added 11 points and two rebounds, while Hanberg scored 11 points, grabbed three rebounds and earned two assists and a steal.
James Trujillo led the Wildcats with 24 points, three rebounds and two steals. Hector Duran scored five points and grabbed nine rebounds in the loss that sends Wendover into consolation play.
Rich 69, Monument Valley 43: The top-ranked Rebels advanced to Friday's semifinal round with the victory. The Rebels were led by Skyler Argyle, who scored 14 points and grabbed 12 rebounds. McKay Jarman added 13 points, five assists and nine rebounds, while Jayden Wallentine contributed 11 points, three rebounds and three assists.
Sergio Morales led the Cougars with 22 points in the loss.
Twitter: adonsports EMAIL: adonaldson@deseretnews.com