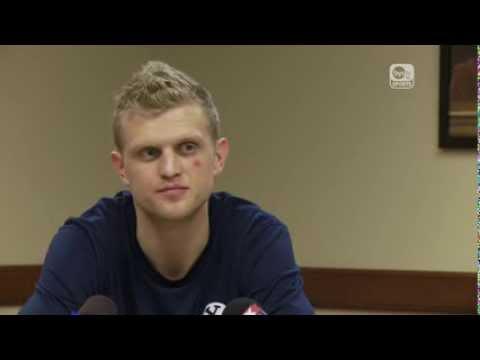 View 5 Items




We had to dig in early, at about the 12-minute mark of the first half. We were full-court pressing. I'm not sure we would have done that under the old format where you have to play again the (next) night.

—LMU coach Max Good
LAS VEGAS — Loyola Marymount is at it again.
Last year, the bottom-seeded Lions defied the odds and battled their way to the West Coast Conference semifinals.
Thursday, No. 10 seed LMU (13-18) overcame a 13-point second-half deficit to knock off No. 7 seed Portland, 67-64, in the first round of the WCC tournament at Orleans Arena.
By virtue of their win over the Pilots, the Lions advance to the quarterfinals. They'll take on No. 2 seed BYU Saturday (3:30 p.m. MST, BYUtv).
Down by double digits, LMU employed an effective full-court press against Portland. The Lions forced 20 Pilot turnovers and scored 30 points off those turnovers.
"We had to dig in early, at about the 12-minute mark of the first half," said LMU coach Max Good. "We were full-court pressing. I'm not sure we would have done that under the old format where you have to play again the (next) night."
Freshman Evan Payne, who finished with a game-high 19 points, recorded a steal and a dunk midway through the second half "that kind of electrified us and fueled us," Good said. That kick-started a 15-3 LMU run that saw the Lions take a 56-52 advantage with five minutes remaining.
Senior guard Anthony Ireland hit just 4 of 16 shots for the Lions, but he finished with 14 points and six assists.
"Anthony didn't have one of his better games," Good said. "I'd still take him eight days a week. On his bad game, he helped us win."
LMU overcame double-doubles by Portland's Thomas Van der Mars and Ryan Nicholas. Bobby Sharp drilled 6 of 9 3-pointers and finished with 18 points for the Pilots.
BYU and LMU split the regular-season series, with each team winning at home.
Good said his team will spend most of Friday watching film and preparing for the Cougars.