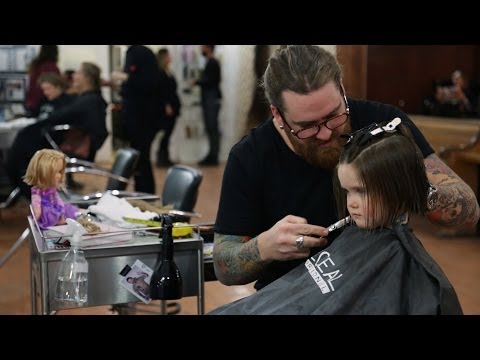 View 4 Items

"Sometimes kids get sick, and then their hair falls out. That's really, really sad."
Emily James is a 3-year-old girl who sympathizes with children who have cancer. To her, not having hair seems very sad. To help provide relief, Emily decided to do something intimidating but simple — donate her hair.
"I don't want any kids to be sad that they have no hair. What I want to do is give them my hair," she said matter-of-factly.
The donation was a family affair. Emily's uncle Matthew Collins cut her hair and FlyPress Films, owned by Emily's parents, documented it. FlyPress Films is a production company that helps businesses create video marketing through the stories behind businesses. Emily's father, Richard James, is the videographer behind the film that FlyPress Films posted to YouTube on Feb. 22.
Amy James, Emily's mother, shared the details of the story on the FlyPress Films website.
"By 3 years old it was time for a serious haircut — it was getting too long for a busy little 3-year-old," she wrote. "We suggested to her that we cut her hair off and donate her hair for wigs for cancer patients. We sat down and explained to her what cancer was, that some kids got really sick and lose all their hair, and that people can donate their hair to make wigs for these kids. We told her it had to be cut really short to get enough length from it and Emily told us she was excited to 'share her hair' … on the condition that 'Uncle Maffew would cut Dolly's hair too.' "
Emily not only insisted that her "dolly," a toy Rapunzel from Disney's "Tangled," have her hair cut too, but she also insisted Rapunzel's hair be cut first.
Comment on this story
"It probably doesn't hurt that in the final scenes of 'Tangled,' Rapunzel is sporting a pretty cute bob," Richard James wrote in the YouTube description box.
Although cutting her hair was a big step for the 3-year-old, Amy James admits that the parents hope Emily's goodwill continues to mature in the future.
"What Emily did, that was most meaningful to us … was that Emily was willing to give something that she had a lot of, something that could be of great meaning to another person. (What) we hope though, is that as Emily matures she will learn to make her own selfless decisions that inspire and bring hope, even if there is a cost."
Alison Moore is a writer for the Faith and Family sections at DeseretNews.com. She is studying journalism and editing at Brigham Young University. EMAIL: amoore@deseretdigital.com