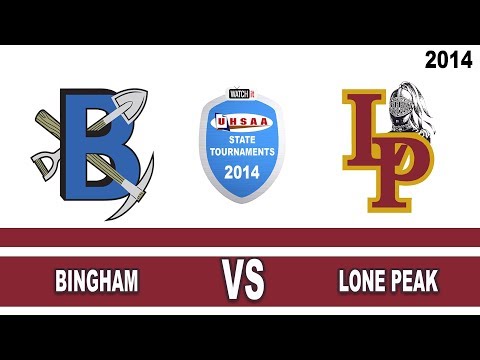 View 15 Items
Buy photos


I knew Bingham was a really good team and I knew that we had to be ready, but I don't know if I expected double overtime. Those are the kind of games that are fun to play in. That's what high school basketball is all about.

—Lone Peak's TJ Haws, who scored a school-record 42 points
SALT LAKE CITY — Lone Peak's Quincy Lewis has coached his teams through some tough games over the years, but few come as tough as what his squad encountered Thursday night against Bingham in the 5A quarterfinals.
The Miners battled toe-to-toe with the three-time defending 5A champions — giving them all they could handle and then some — before Lone Peak ultimately prevailed 82-79 in double overtime.
TJ Haws led the way for the Knights with a school-record 42 points. Yoeli Childs provided 22 points and 17 rebounds for the Miners, who kept coming and kept coming at Lone Peak.
"I knew Bingham was a really good team and I knew that we had to be ready, but I don't know if I expected double overtime," Haws said. "Those are the kind of games that are fun to play in. That's what high school basketball is all about."
Sophomore Frank Jackson helped ice the game for the Knights with a breakaway layup to put his team up 82-79 with 13.5 seconds remaining in the second overtime. Bingham had one last chance, but Kyle Gearig's 3-pointer came up short as Lone Peak avoided the upset and moved on to the semifinals.
"The last few years we've made it look easy, but it isn't easy," Lewis said after the game. "You get into this tournament and you have to get one game like this usually. You have to figure out one game and we figured it out."
Figuring it out is something Haws has done since his freshman year. The senior guard has played a big role in Lone Peak's three straight state championships, but perhaps never as big as the one played Thursday night at the Huntsman Center.
School scoring record aside, Haws ran the team, drilled big shots and made key plays when it mattered most.
"When you have a guy like TJ it isn't about plays at the end of the game. It's about space," Lewis said. "Just give him space and he's going to be able to make plays."
Haws making play after play is hardly unusual, but having opponents that answer almost everything he and the rest of the Knights throw at them is another thing all together.
Most of Bingham's answering was done by Childs, who dominated the post on both ends of the court and left Lewis roundly impressed.
"Give Bingham credit. They played a dang good game," Lewis said. "(Childs) is so tough to handle. That is an NBA body. That guy is something else and we're playing as hard as we can, and I can't ask any more from my kids. And the guy gets 17 rebounds and 22 points, so give him credit."
Childs did most of his best work in the fourth quarter — providing answers whenever Lone Peak appeared poised to run away with the game — but he wasn't alone.
Several Miners stepped up big — including Gearig, whose jumper with 15.1 seconds remaining in regulation tied it at 67-67 and sent the game to its first overtime.
Jordan Evans got the Miners rolling in the first overtime with a 3-pointer and forced the Knights to play catch-up until Jackson's lay-in with eight seconds remaining that tied it at 75-75. Mike Green had a chance to win it on the next possession, but his 3-point attempt rattled out as the teams entered into a second overtime period.
Haws immediately took charge in the second OT — scoring his team's first five points before Jackson's lay-in late.
Jackson finished with 20 points with Zach Frampton adding 14 and 15 rebounds for the Knights. Gearig and Evans added 19 and 18 points, respectively, for the Miners, who left the Huntsman Center holding their heads high.
"We came out and played as best we could and just couldn't get the shots to fall at the end," said Bingham coach Jake Schroeder. "Even going through school today, I don't know how many people thought we had a chance to win walking through the halls, but I liked our game plan."
With the win Lone Peak advances to the 5A state semifinals, where it will take on Davis Friday night at the Huntsman Center.
Email: [email protected]
Twitter: @BrandonCGurney