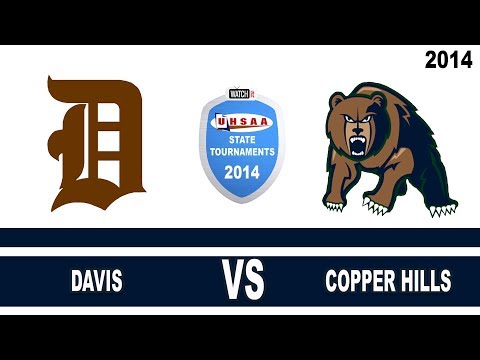 View 10 Items
Buy photos



I just can't say enough about what Copper Hills did tonight. I thought their game plan was so well-crafted. I just thought how hard they played worked to take things away from us. We feel very lucky to win that game.

—Davis coach Jay Welk
SALT LAKE CITY — Abel Porter called it the craziest pass of his life. Making it saved Davis' season.
Trapped under the basket in a double team and the Darts seconds away from a stunning 5A quarterfinal upset, Porter saw teammate Jaydon Ryan slashing to the basket. He quickly wrapped a pass around Copper Hills' defenders and Ryan finished the layup at the buzzer.
Had Porter made the pass a half-second later, Davis' season would've been over. Instead, Ryan's layup — which hit the backboard as the buzzer sounded — sent the game into overtime, and the Darts held on to survive for the pulse-pounding 66-62 victory at the Huntsman Center.
"I just can't say enough about what Copper Hills did tonight," said Davis coach Jay Welk. "I thought their game plan was so well-crafted. I just thought how hard they played worked to take things away from us. We feel very lucky to win that game."
Coaches of heavily favored teams don't often say that at the state tournament, but that's how good Copper Hills was.
The Grizzlies led for all but two minutes of the second half, and played a near-perfect game led by sophomore point guard Preston Sanchez. Realistically, they were unlucky not to win.
At the end of Copper Hills' shootaround Thursday afternoon, one of the players yelled out, "Shock the world."
The Grizzlies nearly did.
Trailing 26-17 late in the first half, Copper Hills used a 19-3 run to take a 36-29 lead at the 4:31 mark of the third quarter. Davis never led again until overtime.
"We really wanted to shock the state tonight, and we believed in ourselves. We played in a great region, and we just came up a little bit short," said Copper Hills coach Andrew Blanchard.
Copper Hills looked poised for the upset throughout the fourth quarter, but Davis methodically chipped away at the Grizzies' lead, thanks in large part to a pair of 3-pointers by Jesse Wade and Elijah Kletzli.
Kletzli's 3-pointer cut Copper Hills' lead to 51-50 with 1:17 remaining, but Sanchez responded with a pair of free throws — he finished 10 for 10 — to increase the lead to 53-50. A Kletzli rebound putback, however, cut the lead right back to 53-52 with 17 seconds left.
Davis didn't really help itself down the stretch with eight missed free throws in the fourth quarter and overtime, but a critical Copper Hills miss gave the Darts new life with 15 seconds left.
Sophomore Charlie Davis had a chance to give Copper Hills a three-point lead at the free-throw line, but he only made 1 of 2, which set the stage for Porter's dramatic season-saving pass.
"First thing I told them is don't act like we've won this thing, 'cause we didn't. I thought we emotionally were a little too (high)," said Welk. "I was excited about going into overtime too, but I almost felt like we've got to refocus ourselves and get on to the work at hand."
Copper Hills came out quick in overtime to grab a 57-54 lead, but Davis responded with eight straight points to increase the lead to 62-57.
Sanchez fouled out during the stretch, a big blow for the Grizzlies to lose their best player. Olsen picked up the slack, though, with a 3-pointer with 44 seconds remaining and then a layup with 27 seconds left to cut Davis' lead to 63-62.
"The great thing about it, we were down five and our best player's out, and our guys didn't give up," said Blanchard.
Another late missed free throw by Davis opened the door for Copper Hills, but its deep 3-pointer with five seconds remaining came up short.