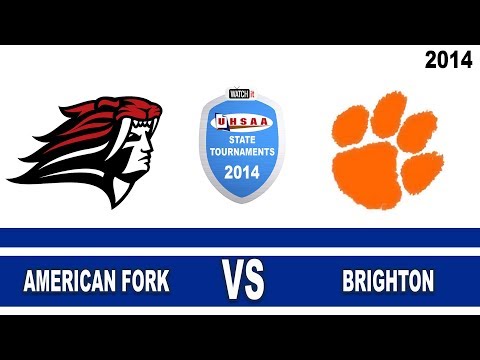 View 7 Items
Buy photos


I thought our guys were aware as a team. Guys were talking and anticipating a few actions. ... Our guys know when you get in a state tournament you have to defend and get stops because you're not always going to get shots four nights in a row.

—American Fork coach Doug Meacham
SALT LAKE CITY — American Fork knew the second half against Brighton in the 5A quarterfinals would boil down to defensive stops. The Cavemen never could have fathomed they'd enjoy 16 minutes and 29 seconds' worth.
After clinging to a four-point advantage at halftime, American Fork held Brighton scoreless for the entire third quarter and without a field goal from the 2:07 mark in the second quarter until the 1:38 mark in the fourth to advance to the semifinals with a 50-27 win at the Huntsman Center Thursday afternoon.
"I thought our guys were aware as a team," American Fork coach Doug Meacham said. "Guys were talking and anticipating a few actions. ... Our guys know when you get in a state tournament you have to defend and get stops because you're not always going to get shots four nights in a row."
American Fork held Brighton to 21 percent from the field (7 of 34), including 2 of 17 in the second half. The Cavemen won the box score in points in the paint (22-8), points off turnovers (16-6), second-chance points (10-2), rebounds (37-28), assists (8-2) and steals (8-4).
"We missed some shots in the first half," Meacham said. "I thought we had some good looks that didn't fall. We made a more concerted effort in the second half to get our bigs touches. We're solid inside if we stay patient with it."
Sophomore Brendan Bailey was particularly impressive guarding Brighton's prolific scorer, Brock Miller. Implementing effort with length, Bailey forced Miller into 2-of-10 shooting along with seven turnovers.
"Brendan Bailey was superb," Meacham said. "He's gotten better game by game, and to guard a player like (Miller) and not get in foul trouble tells you he can move his feet and get his butt down."
"You got to outwork the other player," Bailey said when asked what he was able to do specifically to frustrate Miller. "You got to have that defensive mentality that you know you can stop their best player."
Bailey also provided a spark earlier in the second quarter. After Brighton had narrowed the gap to two, Bailey made two straight shots — including the only 3-pointer of the half — to inflate the lead to 18-11.
The Cavemen then opened the third quarter with consecutive treys from Bailey and Spencer Johnson after the 1-for-11 start for a 27-17 lead. From there, the rout was on.
Brighton's scoreless drought finally ended with 7:22 remaining in the fourth quarter on John Gremillion's free throw.
American Fork will play Pleasant Grove in the semifinals. The two split in the regular season, with both winning on the road.
"The first night they hit shots, the second night they missed some shots," Meacham said. "Sometimes that's how it goes. We contested a little better and we tried to be physical inside. That was kind of the difference. You can (only) take away so much from those guys. They have all five guys on the floor that can shoot it."
Twitter: @phibbs_