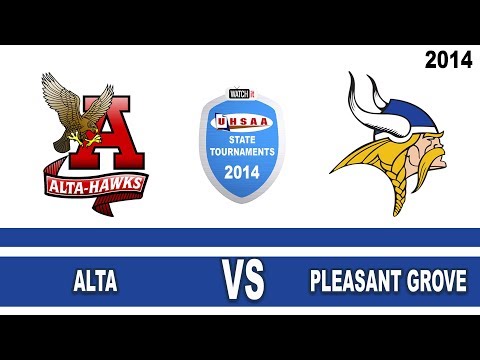 View 7 Items
Buy photos


That's a really good (Alta) team. We played them early in the year, the third game of the year, so we knew what they were about and how good they were and saw what they did to their region. So we were fully prepared for a battle tonight and we got one.

—Pleasant Grove coach Randy McAllister
SALT LAKE CITY — What a difference a little time — and a lot more toughness — can make to a high school basketball team.
Three months ago, Alta handed Pleasant Grove a 65-54 preseason loss — one of just three defeats the Vikings have suffered all season long. What's more, Alta did its damage on Pleasant Grove's home court.
Fast forward three months, and the same two teams were tangling again Thursday afternoon in the quarterfinals of the 5A state tournament at the University of Utah's Huntsman Center.
But this time, it was a much, much different story.
Senior forward Matt Conway scored 19 of his game-high 25 points in the second half, and the hot-shooting Vikings also got double-digit scoring from Forrest Pincock, Riley Court and Mark Sheffield in an impressive 78-55 victory over the Hawks, vaulting Pleasant Grove (22-3) into Friday's tourney semifinals.
"It doesn't feel like a blowout, to be honest with you," Pleasant Grove coach Randy McAllister said. "We're up 20 with two minutes left and I'm still stressing out.
"That's a really good (Alta) team. We played them early in the year, the third game of the year, so we knew what they were about and how good they were and saw what they did to their region. So we were fully prepared for a battle tonight and we got one."
So what did the Vikings learn from that early-season matchup that might've helped them in Thursday's rematch?
"I learned that we aren't very tough," McAllister said. "We weren't tough and the kids knew that. They got pushed around and Alta's always been a physical team and plays a physical brand of basketball. And our kids learned from that.
"They watched the film the other night and they turned to me and said, 'Coach, we don't recognize ourselves. That doesn't look like us.' And I said, 'You're right. We're not that team anymore.' I thought tonight they stepped up and battled them a lot better."
Conway agreed that he and his teammates learned their lesson well from that early-season setback to the Hawks.
"The first time they played us, they caught us a little off-guard," he admitted. "We kinda got bullied inside because they just kept sending anyone to post up ... and we weren't tough enough as a team.
"And we really have changed into a completely different team, how we run our offense, how we run our defense, and how much more physical we play.
"Something we did in practice is we played five-on-six ... and the JV was allowed to foul us any way they want," Conway said of the way the Vikings toughened up. "They could just jump on us and you've gotta score, and if you don't score, you lose and you run. So you've gotta find a way to win."
They certainly found a way to win, and win convincingly, on Thursday, and next the Vikings will face Region 4 rival American Fork Friday evening at 7:30 p.m., with the winner playing for the state championship on Saturday afternoon.
Pleasant Grove has now won 10 of its last 11 games, the lone loss during that span coming by a score of 63-56 on Feb. 25 to the same American Fork team the Vikings will face in Friday's semifinal showdown.
Conway was 5 of 9 from the field and, more importantly, 15 of 18 from the foul line on his way to 25 points. In the third quarter, he scored seven points in a 12-0 run that turned the Vikings' 41-33 lead into a commanding 53-33 advantage that the Hawks could never recover from. "He's been playing that way for about three months," McAllister said of Conway. "He's a good player.
"In the state tournament, you don't want to rely on the 3; you want to go inside and play from the inside out, and Matt knew that. He wasn't working hard enough in the first half to get open. They were pushing him and shoving him and he would get out of the key and kinda just stand there and say, 'Well, I'm done with that.'
"We challenged him to give a little more effort and we promised him that if he did that, we'd get him the ball," McAllister said. "And the guards did a great job of rewarding him in the second half."
Pincock added 18 points, including 4-of-6 shooting from 3-point range, and had six rebounds; Court contributed 16 points, including four 3s of his own, along with nine rebounds and three assists; and Sheffield had 13 points, nine rebounds, three assists and three steals for the Vikings.
"Forrest Pincock is just a great kid to have on the floor because he's just automatic when he's open," McAllister said. " ... Riley and Forrest and Mark Sheffield just played a great game tonight, I thought. He's our 6-5, do-everything guy and I thought Mark did a great job."
Region 3 champ Alta (22-3) had won 16 of its previous 17 games, but the Hawks had their hands full with a Pleasant Grove group that connected on 10 of 16 shots (62.5 percent) from 3-point range and 32 of 38 (84.2 percent) from the foul line.
For Alta, Zach Rollins scored 14 points, Landon Albrecht added 11, Carter Heslop and Elijah Glissmeyer chipped in with eight points apiece, and Trevor Hill had seven more. But the Hawks shot just 25 percent from the field in the second half, missed 10 free throws in the game and were outrebounded by a wide 40-26 margin.
"They missed some shots and that's what we were banking on," McAllister said. "We tried to force our efforts in a couple kids' areas to try and shut 'em down and try to let other kids try to beat us, and fortunately it worked out tonight. But that's a fabulous team. What a great defensive team they are.
"We shot the ball well. When we're making shots, things look like they're going better," he said with a laugh. "We're making shots and making shots, and we got Matt Conway going a little bit in the second half, which helped, and we got our running game a little bit more on track.
"It was the third quarter before I felt like we were playing our style," McAllister said. "I think the whole first half (which ended with Pleasant Grove holding a 32-25 lead) we played Alta's style, which is a grind-it-out, half-court game. But we got it going a little bit in the second half, and I think that helped us out.
"You've got shooters like we have, the only scary part is that's not always on. The shots some nights are off, but the last three weeks we've been shooting it pretty good as a team. Some nights things go well for you."
Conway agreed that the key for the Vikings was their preparation and game plan, and how well they were able to execute it.
"I don't know if I'd call it a surprise," he said of the lopsided final score. "I mean, we executed our game plan how we wanted to and exactly how we expected to. I mean, we just did our game plan so well that it really shut them down and made them shoot the shots we wanted them to take and not the shots they wanted them to take.
"We liked our chances of having them shoot a lot of outside shots. So we tried to give them the ball outside and try to force them to take shots they didn't want to take. And with their really good 3-point shooters, we tried to get out on them and just make them shoot what they didn't want to shoot.
"We knew that if we let them stick around that they could really come back and get us," Conway said of the Hawks, "so we decided we've got to put 'em away and we've got to get back our running game because we really like to run.
"We didn't get a single fast-break point in the entire first half. So we really had to get back to running. And we really looked a lot more inside-out, too, just try and get back to the basics and just do what works for us really well."
And, of course, play a little — or a lot — tougher, too.
EMAIL: [email protected]